11 Celebrities Who Aren't Ashamed of Their So-Called Body "Imperfections"
These famous women are embracing body positivity and speaking out about unrealistic body image issues in Hollywood.
Beauty ideals are ever-changing and completely subjective. But unfortunately, one annoying reality of body image doesn't seem to be fading anytime soon: the existence of cruel people who shame women for so-called "flaws" and body imperfections. Whether it's cellulite, stretch marks, or skin imperfections, women are often taught from a young age that the natural (and let's be real, totally unavoidable) consequences of growth, weight gain, or pregnancy are something to be hidden away.
These celebrities are speaking out against that perception by getting brutally honest about their tiger stripes and "cellulite lightning bolts," sharing candid photos of what their bodies really look like — without Photoshop. And they're not ashamed in the slightest.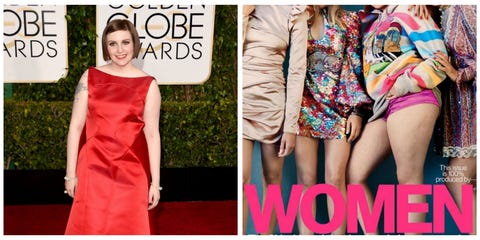 Anyone who's watched even a minute of Dunham's show Girls knows that the writer-actress isn't afraid to bare of her "non-traditional body type." When she appeared on the cover of Glamour alongside her co-stars, she thanked the magazine – in a long, heartfelt Instagram post that addressed her history of being insulted for the way she looks – "for letting [her] cellulite do the damn thing on news stands everywhere."
BARBIE FERREIRA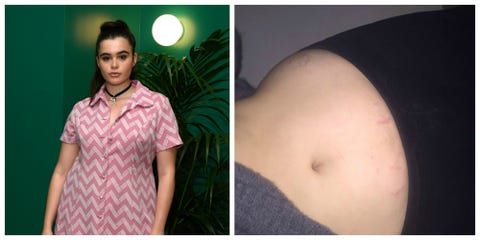 The plus-sized Aerie model posted a photo baring her midriff and shared some stretch mark maintenance tips in the process. "My lil' stripes are out here. Soothing them with Vitamin E oil and noticing how cute my body can be despite lil' changes," Ferreira captioned the Instagram post.
CHRISSY TEIGEN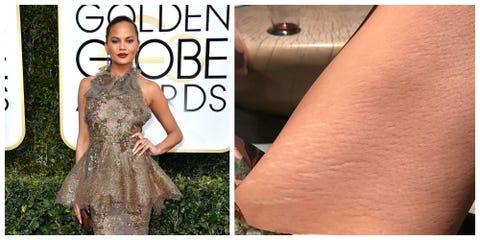 The model and Twitter clapback queen shared a photo of her legs, stretch marks bared in all their glory. Teigen captioned the photo "whatevs," epitomizing her nonchalant attitude towards them. And this isn't even the first time the Lip Sync Battlehost got candid about her stretchies – she shared a similar picture back in April 2015.
DEMI LOVATO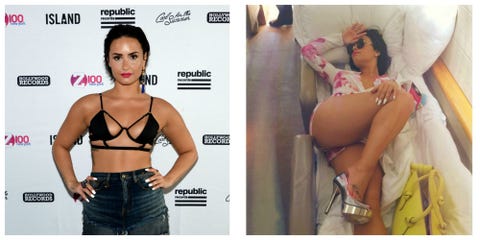 The "Cool for the Summer" singer has been open and honest about her struggles with mental health and an eating disorder, including her journey from "hating every inch of [her] body" to embracing (and celebrating!) her figure. In an Instagram photo baring her legs, she counseled her followers to learn to love their curves and was *very* clearly feeling herself.
DENISE BIDOT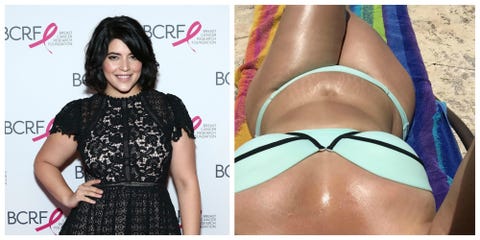 The Latina plus-size model is famous for starring in a swimsuitsforall campaign that didn't retouch any of her cellulite or stretch marks. Bidot has been vocal about body love in the past, and the beachside selfie she shared explained that she was "learning to love [her] body more and more each day" – stretch marks, touching thighs, and all.
ISKRA LAWRENCE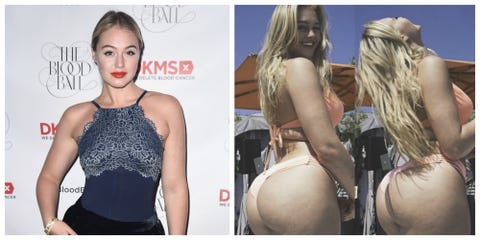 The blonde bombshell has long been adamant about not retouching any of her Instagram photos. She's shared plenty of real AF body positive pictures of her stomach rolls, stretch marks, and more.
But you can really feel the self-love in one super cute bikini picture, where she pointed out that she hadn't airbrushed away her "tiger stripe stretch marks," "cellulite lightning bolts," or her back fat. "You are more than your body and you get to decide what beauty is," Lawrence wrote in her caption. Preach!
LORDE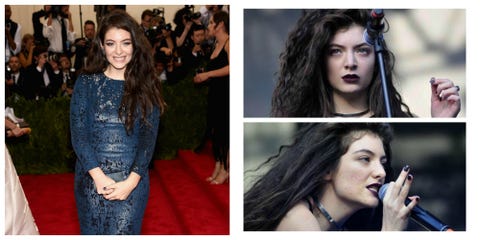 The Pure Heroine singer took a stand against photo retouching when she spoke out against photos from a 2014 concert that were heavily airbrushed to remove her noticeable acne scarring. "I find this curious – two photos from today, one edited so my skin is perfect and one real. Remember flaws are ok," Lorde tweeted alongside the retouched and un-retouched photos.
ROBYN LAWLEY
The Australian plus-size Sports Illustrated model posted this candid picture in response to a tabloid story published while she was pregnant claiming that she'd considered abortion in order to avoid stretch marks. She denounced the false story and spoke out about loving her #tigerstripes.
"As for my stretch marks, I knew they were coming and as they're fading into white (like all my others) I thought I might capture them. Because they are some bad ass tigerstripes. And I earned them," Lawley captioned her Facebook post. "We put an unbelievable amount of ridiculous, time-consuming pressure on women to care so much about their flaws they forget how truly beautiful they (you) are today."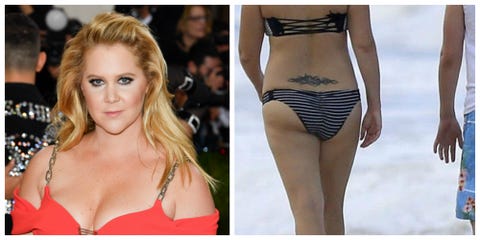 The comedienne has always been unapologetic for the so-called "flaws" that Internet trolls attack her over, even incorporating body image issues into her Inside Amy Schumer sketches. Schumer addressed her haters head-on in a sassy Instagram post of herself walking on a beach with her brother-in-law (shot from behind), calling attention to her cellulite and "the audacity of hips" in her caption.
BROOKLYN DECKER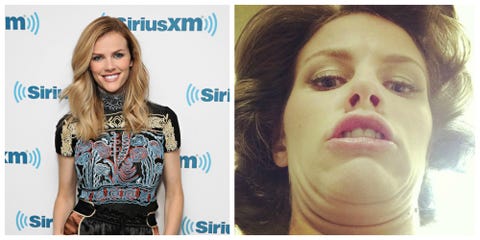 Even world-famous beauties can have extra chins! The actress-model wasn't afraid to laugh at herself. Decker posted a silly photo on Instagram, inviting her followers to play "a little game" with her called "Count the Chins."
ASHLEY GRAHAM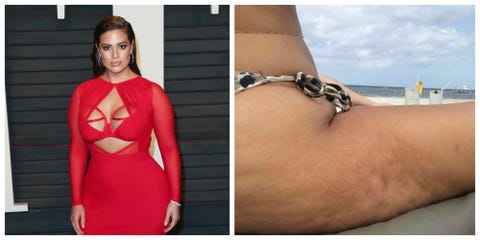 Graham, who was the first plus-size model in Sports Illustrated back in 2015, has gained renown for her habit of being unrelentingly real about her body. In a beachside photo of her leg and stomach, the model proudly displayed off her cellulite.
"I work out. I do my best to eat well. I love the skin I'm in. And I'm not ashamed of a few lumps, bumps or cellulite… and you shouldn't be either. #beautybeyondsize #lovetheskinyourein," Graham captioned the post.