Man remembers encounter with big cat in Connah's Quay
BIG cats may have been roaming the Flintshire countryside for years.
There have been numerous if sporadic reports of large cat-like creatures in areas such as Halkyn and Pontybodkin.
But perhaps the most surprising reports are that a puma or panther could be living in the county's most populated town, Connah's Quay.
Thomas Ashburner sent a report of his sighting to Puma Watch North Wales, the group that has dedicated itself to logging and raising awareness of big cat encounters in the region.
His report goes back to 2008 when, early in the morning of January 2, he saw a large black cat in Lwyni Valley Nature Reserve.
He said: "I was walking with my two Bedlingtons around the perimeter of the woods. We were at the top of a big dip in the land when the dogs started sniffing the air and barking. I looked across the dip to the top of the other side expecting to see another walker with dogs.
"I couldn't believe what I saw. Approximately 50 yards away I saw a very big black cat stand up under a young tree.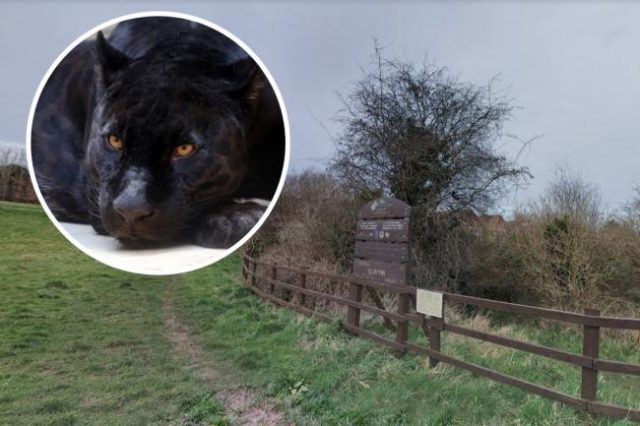 "I watched it staring at us for a moment before it just leapt over some low lying branches before making of into the woods near the old Buckley train line.
"I continued down and up the dip to the tree where I first saw it stand, you could see an impression on the ground where it had been lying.The flattened ground was definitely not made by any domestic cat. My dogs frantically looking for the animal.
"It was at this moment I realised that we could be in danger. I hurried past and couldn't wait to tell my partner when I got home.
Thomas said that he initially wasn't believed until a report of a similar sighting in the the then Flintshire Evening Leader.
"Everyone I told didn't believe me at all," he added.
"Then a couple of months later on the front page of the Evening Leader there it was another sighting reported. The teasing and joking stopped at them seeing a picture on the front page."
Tony Jones, of Puma Watch North Wales, said there have been similar sightings in Wepre Park.
He said: "We've heard about the occasional puma sighting in Wepre Park over the years, so it's not a surprise to hear one was spotted in this nature reserve nearby. It's another wooded valley with very similar terrain, where an animal could cover some distance without breaching into exposed fields. We think populations of big cats in North Wales are centered on Snowdonia and the Clwydian range, and as they're solitary animals covering a range of 30 square miles, it's not unusual for sightings to occur anywhere across the North Wales region from time-to-time, such as the occasional ones reported around Connah's Quay and Wepre.
"We think it's unlikely a big cat would remain in such a populated area for very long and most are spotted while roaming away from the more remote hills. Certainly a puma could cover the distance from the Clwydian's to Connah's Quay in just the one night, and we've even heard reports of them being spotted crossing the A55 bridges at Northop and Halkyn from motorists passing beneath. With Halkyn and Halkyn Common immediately adjacent to these bridges, these would give any puma in the Clwdyian's easy access to territory around Flint, Wepre and Connah's Quay.
"Halkyn has had many sightings reported over the years including one on video in an old quarry and one just a couple of months ago. This and the geography of the area would suggest Halkyn Common might act as a 'gateway' for big cats to traverse between the Clwydian hills and the more populous areas of Flintshire."