A photographer made the best of stormy weather during a graduation photo shoot, and captured a student and her horse in front of a magical rainbow
After Cheyann Clarke's high-school graduation and end-of-year dance were canceled, her mother came up with an idea to take celebratory photos of the student wearing her dress instead.
They worked with freelance photographer Christy Turner to take the shots, and held a photo shoot at her grandparent's farm in Calgary, Canada.
Speaking to Insider, Turner said there was a huge storm with thunder, lightning, and hail moments before their photo shoot in which Clarke posed while sitting on her white horse PeeWee.
Thankfully, however, the storm cleared, leaving behind a perfect backdrop: a sky filled with mammatus clouds and a rainbow.
Like many other students, Cheyann Clarke recently faced a canceled graduation and end-of-year dance as a result of the coronavirus pandemic. The 18-year-old graduate and her mom planned a photo shoot to celebrate the milestone instead, though the weather didn't exactly cooperate.
But freelance photographer Christy Turner found a silver lining, turning stormy weather into something magical.
Because she wouldn't get a chance to wear the stunning white gown she purchased for both her graduation and end-of-year dance, Clarke and her mother Deanne asked Turner to take some celebratory photos in the dress.
But as Clarke, her family, and Turner headed to the student's grandparent's farm in Calgary, Canada, for a photo shoot, a storm with thunder, lightning, and hail took over the sky. Thankfully, as an "avid Northern Lights and storm chaser," Turner knew that she might have a chance to capture something even better than a golden-hour sunset: mammatus clouds.

© Christy Turner Cheyann Clarke poses in front of mammatus clouds in Calgary, Canada. Christy Turner
Mammatus clouds are "pouch-like protrusions" that hang from the undersides of other clouds, often as a result of severe storms. They're made mostly of ice, and can sit in the sky for up to 15 minutes at a time."As the mammatus began to form, I began to get pretty excited, as they were becoming very prominent, and the setting sun was magnifying their structure and color vividly," Turner told Insider.
The group quickly worked to get Clarke's horse PeeWee out of his stable, and then Turner helped the animal and student get into position for the photos.
"There was still a fairly strong breeze moving the storm cell and clouds away, so we had to work quickly against the changing skies in order to showcase the incredible natural backdrop we were given," Turner said. "Fortunately, PeeWee and Cheyann are great friends, so he was most cooperative for the photo shoot."
She added: "During this time, a partial double rainbow began to form as the sun drew lower to the horizon, so then I wanted to get Cheyann interacting with this other phenomenon of nature, capping off a truly dreamy set of photos."

© Christy Turner Cheyann Clarke poses in front of clouds and a rainbow in Canada. Christy Turner
Turner said Clarke's horse PeeWee was a "significant part" of the graduation photo shoot.
"PeeWee is the horse she's been looking after and riding since her childhood horse Lucky passed away around age 13," Turner said. "In the summer she looks after him and rides him whenever possible, as she's an avid hobbyist equestrian. The inclusion of the horse helped convey the person that Cheyann is and what she holds important."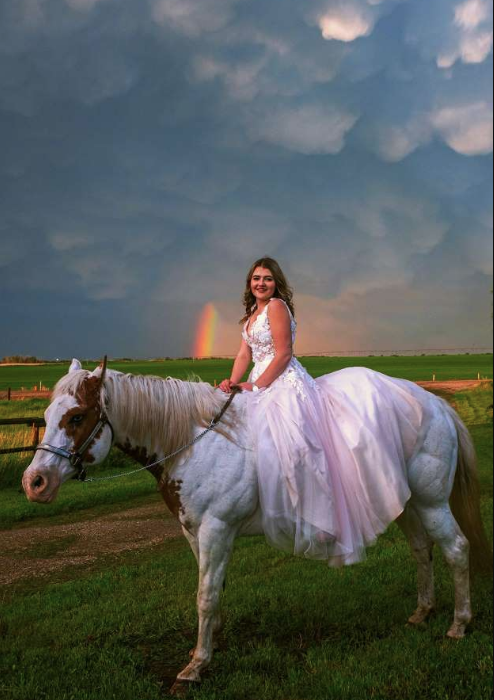 © Christy Turner Cheyann Clarke and her horse PeeWee pose for a graduation photo. Christy Turner
Though Turner and Clarke were able to make the most of bad weather, they still faced some difficulties throughout their photo shoot. Mosquitoes, for example, proved to be a challenge.
"After several days of heavy rainstorms, the mosquito factor was off the charts," Turner said. "Both of us were covered with the bugs while we were shooting. At one point, I glanced down and saw at least 30 to 40 latched onto various parts of me, including my hands holding the camera!"
Still, Turner persisted, and focused on capturing a magical moment.
"I could tell while shooting that these were going to be beautiful because I had such a lovely subject and such a stunning backdrop, so I just kept snapping," the photographer said.