13 Celebrity Fashion Fails That We Can't Forget
Every famous person has a group of experts who create their look. But sometimes celebs' appearances cause millions of questions like, "Who makes them wear such awkward clothes?" or "Did they get into an argument with their stylist?" Today, we'll show you celebrities such as Christina Aguilera, Salma Hayek, Amber Heard, and some other famous people who made it onto the Fashion Police list. By the way, at the end of the article, you'll learn about a family that loves strange outfits and has an incredible ability to make them popular.
votreART is puzzled by these weird clothes and wants to learn why celebs decide to put them on. Welcome to the world of crazy design!
Kate Beckinsale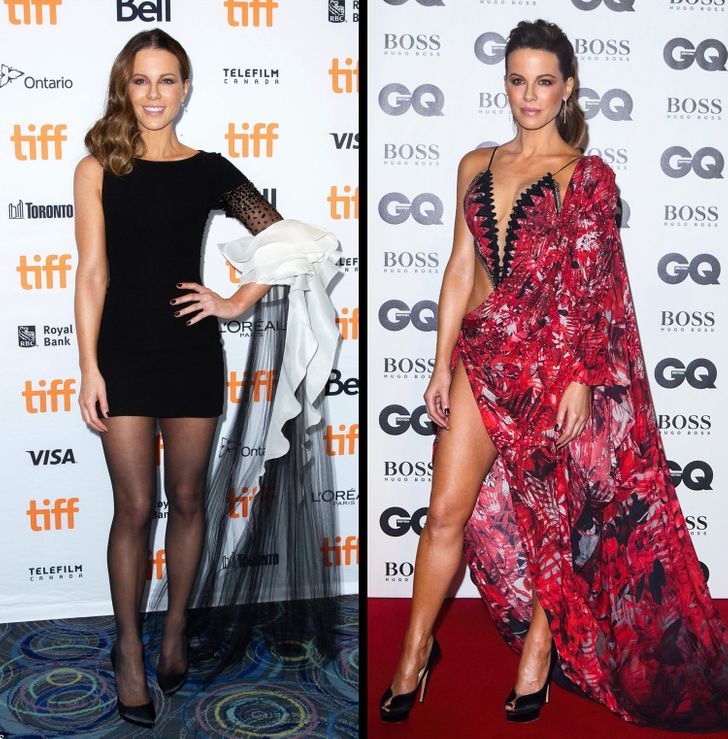 2 fails in 1 week! The first one was shown at TIFF 2018 — this look featured a small black dress with a long sleeve. The second outfit was demonstrated during GQ Men of the Year Awards and consisted of a bright, revealing dress that resembled a swimsuit more than anything else.
Nicole Kidman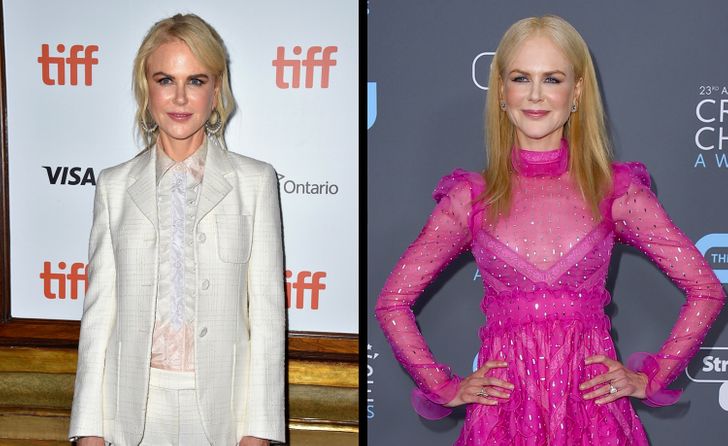 Nicole Kidman's stylists can't decide between 2 absolutely different looks: one day, she looks like Barbie and the next day, she's wearing a suit and a weird blouse. But awkward clothes can't hide Nicole's talent and she won a Golden Globe Award wearing a bright pink dress.
Ryan Gosling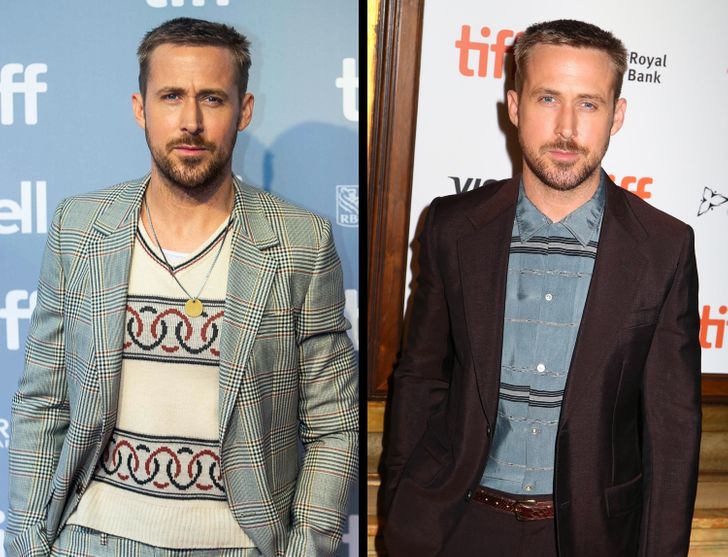 There's only one thing that can explain Ryan's strange appearance at TIFF 2018: his luggage must have been stolen! But Ryan's charisma will never let strange clothes spoil his look.
Irina Shayk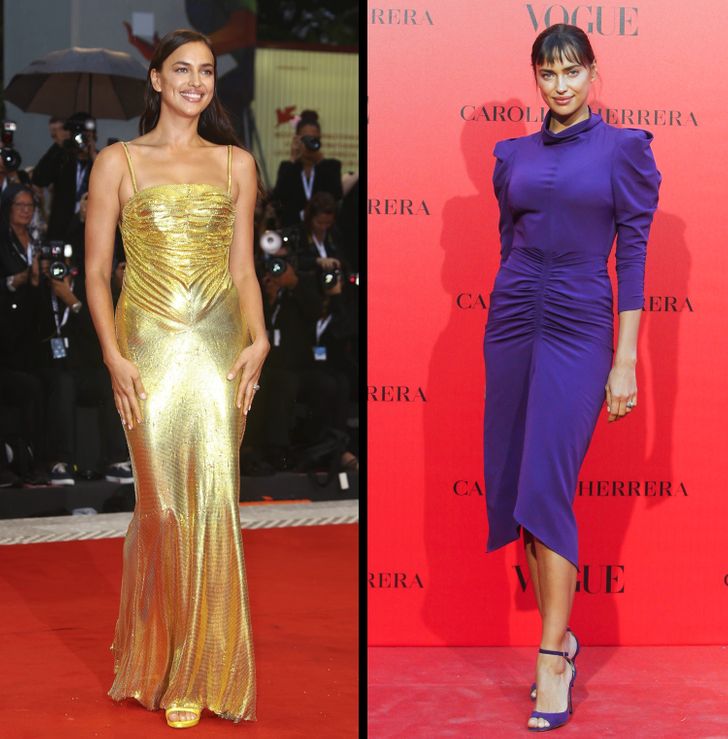 As a rule, the model overshadows everyone on the red carpet, so it's rather difficult to explain why Irina's stylist decided to choose these 2 dresses that hide all her greatest features.
Julianne Moore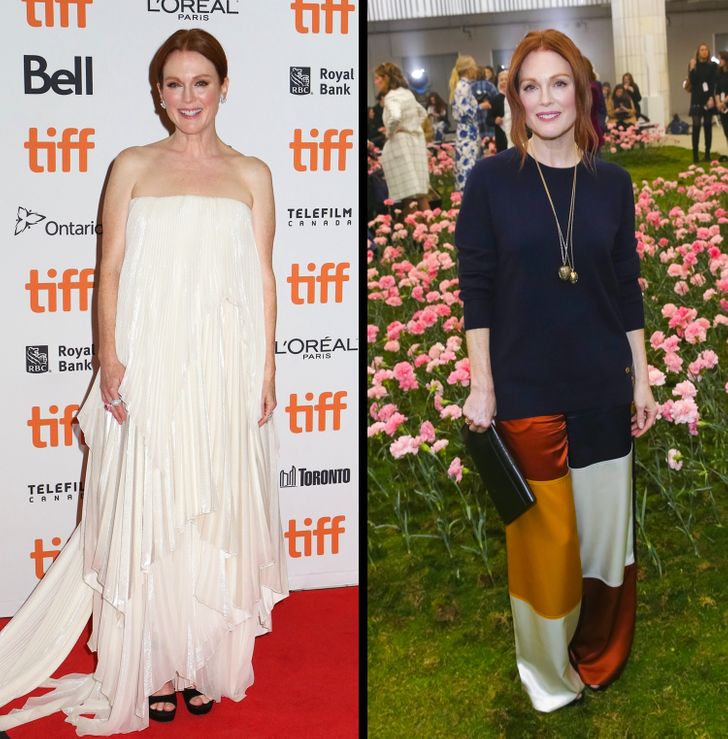 Julianne's stylists made mistakes twice in 2018: they hid the actress behind shapeless silhouettes and didn't even try to highlight her body's best attributes.
Salma Hayek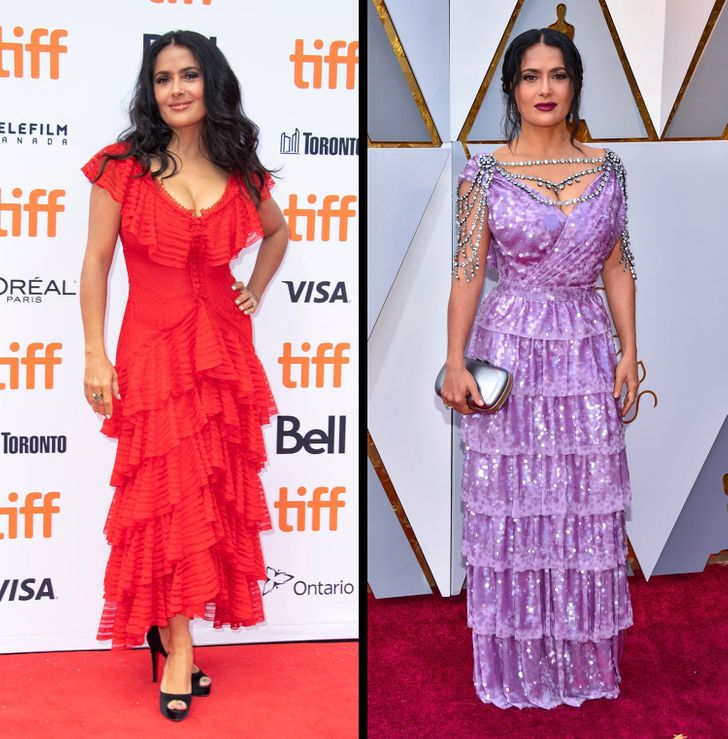 Salma is a really bright woman and she doesn't need any extra accessories. Thanks to the outfits depicted in the photos, the actress has been accused of having bad taste. However, she prefers to wear casual clothing in her everyday life.
Amber Heard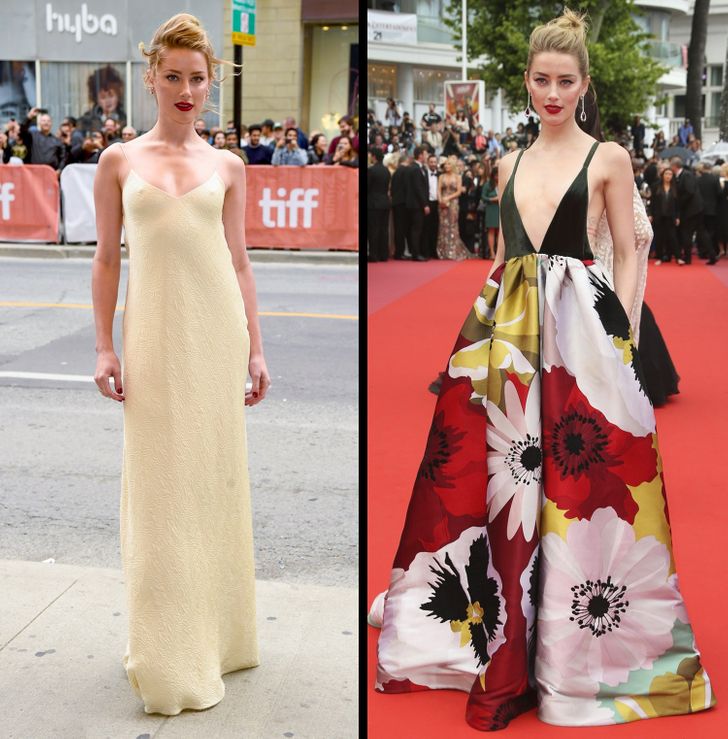 It looks as if someone has tried to make fun of this woman on purpose. First, these dresses don't suit her. Second, her makeup artists "did their best" to create a certain look on the right. Amber looks exhausted and tearful thanks to the rhinestones under her eyes.
>h2>Blake Lively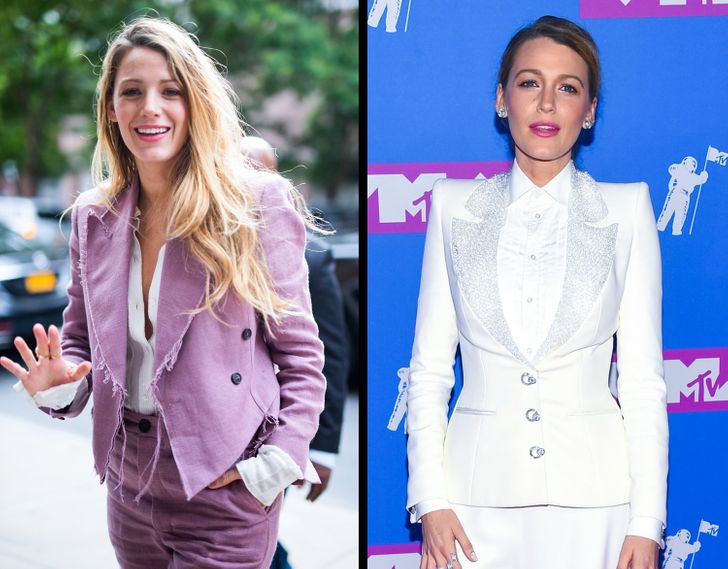 Blake Lively is a role model for many people. But even she has bad looks sometimes! The blazer in the first picture is really unkempt and the one in the second photo is too neat.
Chloë Moretz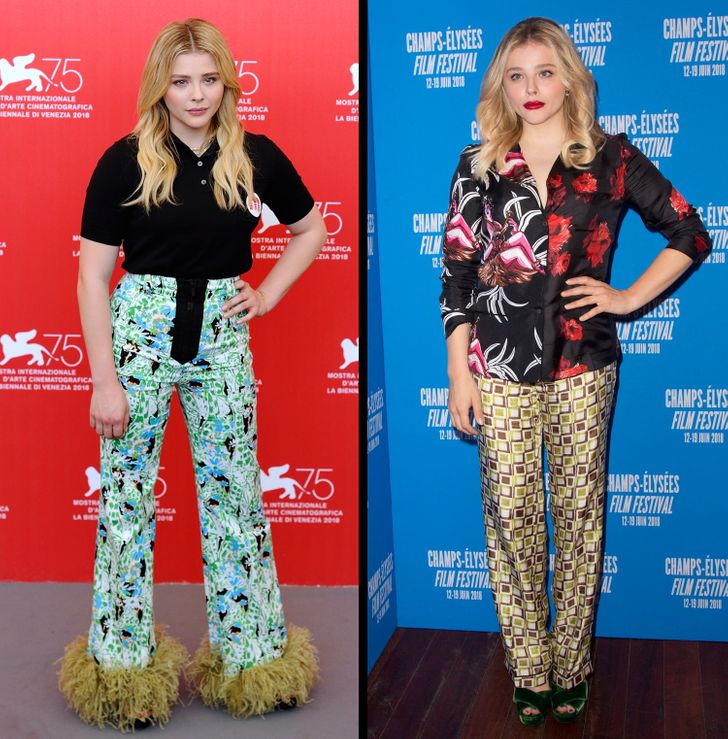 Even the most loyal fans can't acquit these outfits! Both of her looks appear strange and make the actress look 10 years older.
Bella Hadid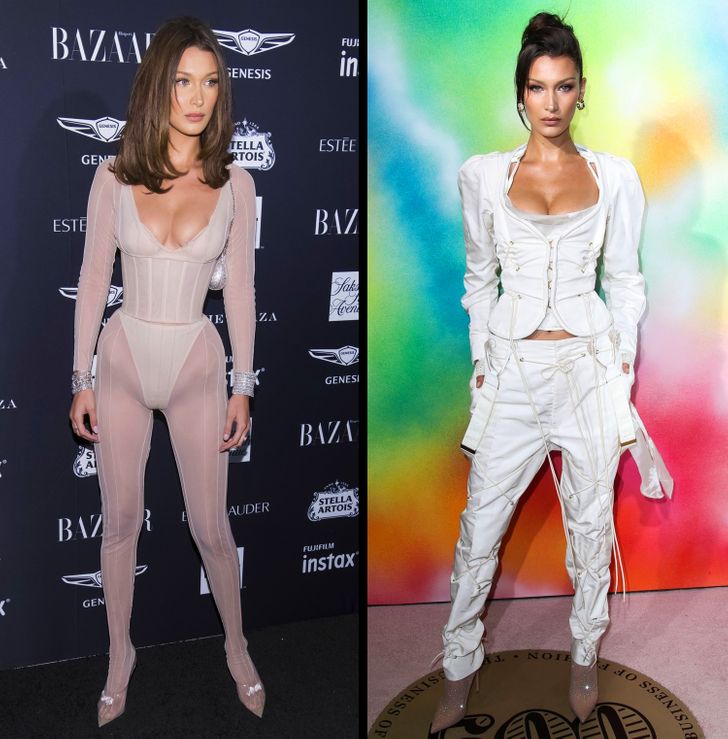 Bella is a really confident person but there should be limits! Her beige suit makes us think that her stylists have forgotten to put a skirt on the model. The second outfit looks like a mix of the most popular trends of the '00s and a straitjacket.
Christina Aguilera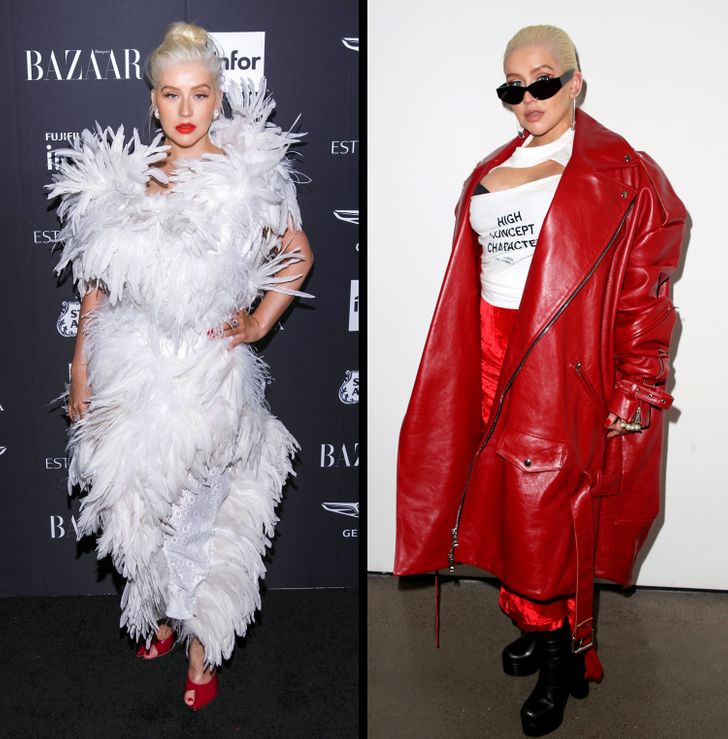 The singer has always liked to experiment but sometimes her imagination runs too wild. We have to admit that her dress with lots of feathers looks less strange than her other outfit that consists of a velvet skirt, a big coat, a shirt, a black bra, and big '90s-style shoes.
Robert Pattinson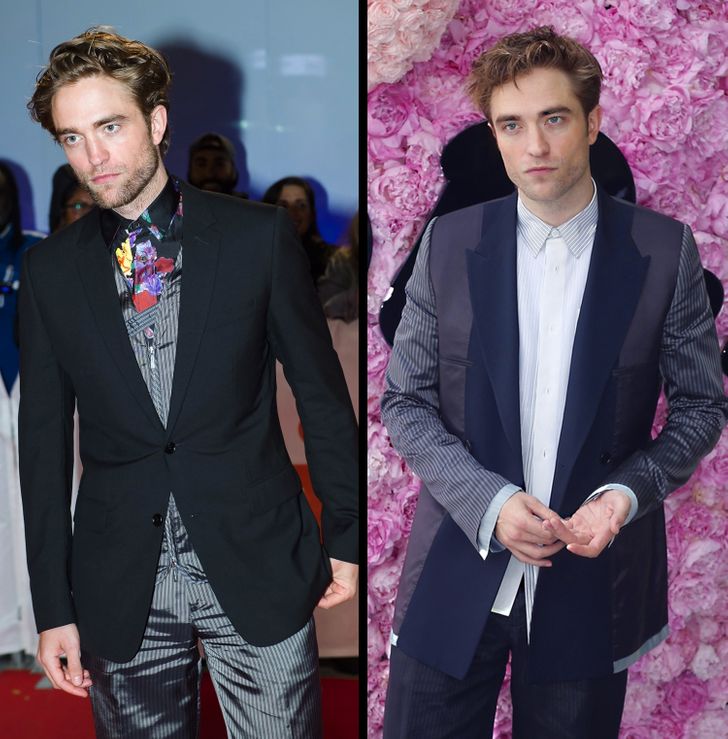 This actor is usually accused of looking unkempt. But what if his stylists just love using crumpled fabrics and like to combine patterns that don't match?
Kanye West and Kim Kardashian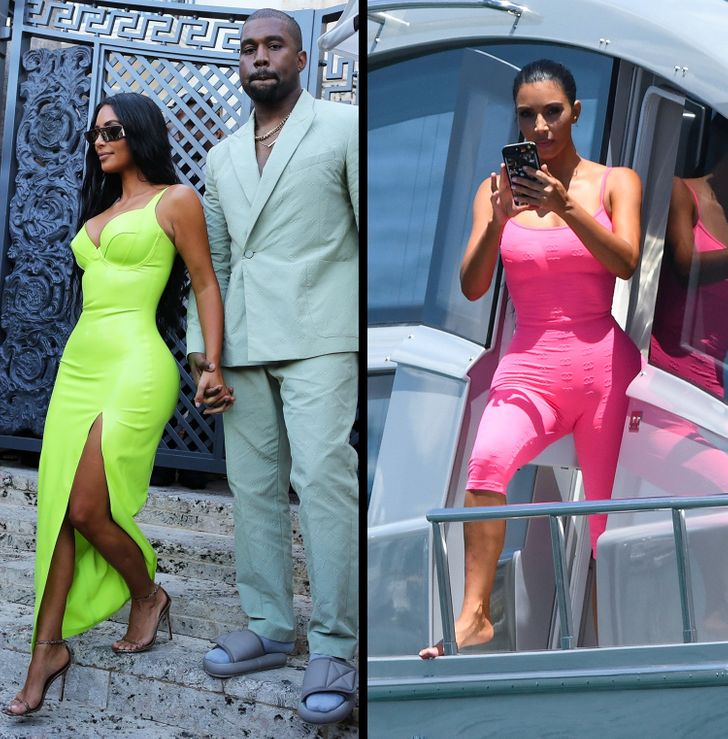 Not so many people paid any attention to Kanye's suit since everyone couldn't help staring at his small-fitting sandals. The most surprising thing is that these flip flops became extremely popular — the design has completely sold out on the website.
His spouse Kim Kardashian chose a strange cruise outfit: a neon-colored overall by Chanel. We can't understand why she didn't just opt for a regular swimsuit that looks similar.
Do you have anything to add to this list? Share some other weird celeb looks with us!
Preview photo credit Invision / Invision / East News, Invision / Invision / East News