6 Celebrities Reveal Their Weight Loss Secrets That Helped Them Glow Up Dramatically
You don't have to be a wealthy workout fanatic to get yourself in shape. The most important thing is to get started and stick with it. It's not always possible to maintain a proper diet and lifestyle, especially if you're busy. Yet, these 6 celebrities shed kilos like leaves in autumn despite their hectic life. They shared their secrets and didn't even charge us anything.
1. Adele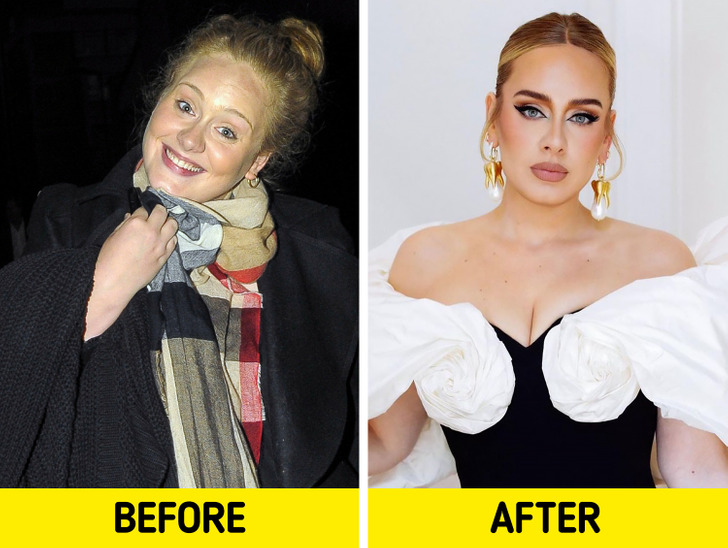 EROTEME.CO.UK/East News, © adele / Instagram
Adele leads quite an active lifestyle — she lifts weights in the morning, hikes or boxes in the afternoon, and does cardio at night. Besides, she's a fan of reformer Pilates. The singer also confesses that limiting her sugar intake was probably why she lost a lot of weight, "I used to drink 10 cups a day with 2 sugars in each, so I was on 20 sugars a day."
2. Rebel Wilson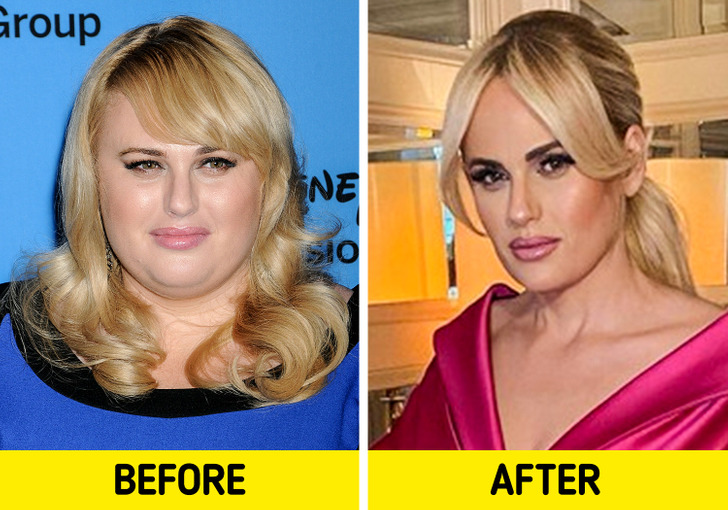 Gilbert Flores/Broadimage/EAST NEWS, © rebelwilson / Instagram
Although Rebel has struggled with emotional eating and polycystic ovarian syndrome, she lost more than 80 pounds. The actress followed the Mayr Method. There's no calorie counting, but you must chew your food properly and eat slowly. The biggest meal is breakfast, and the smallest one is dinner. She also loves taking walks and meditating to combat emotional eating.
3. Jonah Hill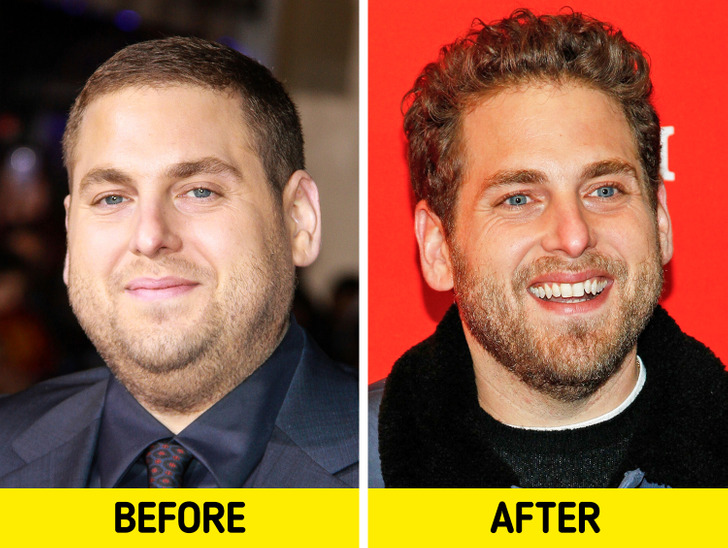 Weight is a sensitive topic for Jonah, but he still opens up about it sometimes. In 2011, he lost 40 pounds just by eating sushi. Later he saw a nutritionist and corrected his unhealthy habits. He started eating more fruits and vegetables, lean protein, whole grains, and so on. Besides, he goes for runs and does 100 push-ups every day.
4. Melissa McCarthy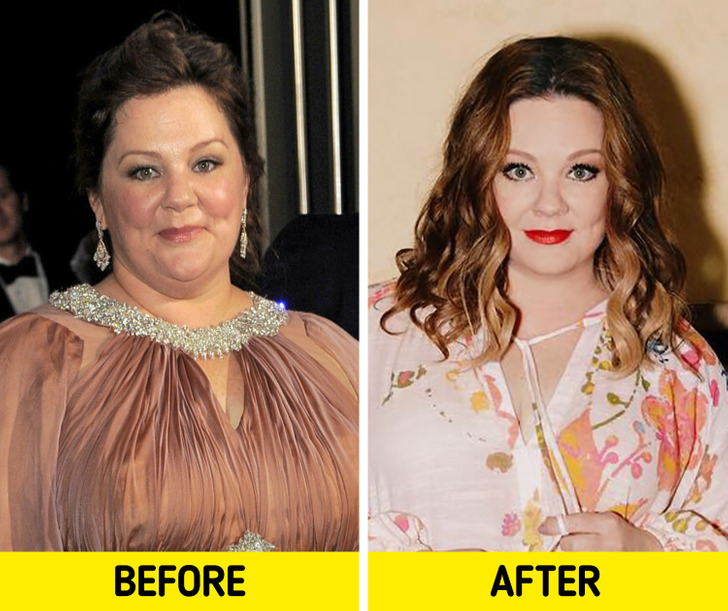 Melissa says that changing her lifestyle was enough to slim down. "Just super boring life. You bring it real down, you don't do anything fun, and you go to bed at 7:30 — that's the trick." McCarthy is comfortable in her skin and doesn't obsess over diets or the number on the scale. She knows that weight fluctuations are normal and there's nothing to be worried about, "I'll be up, I'll be down, probably for the rest of my life."
5. Chris Pratt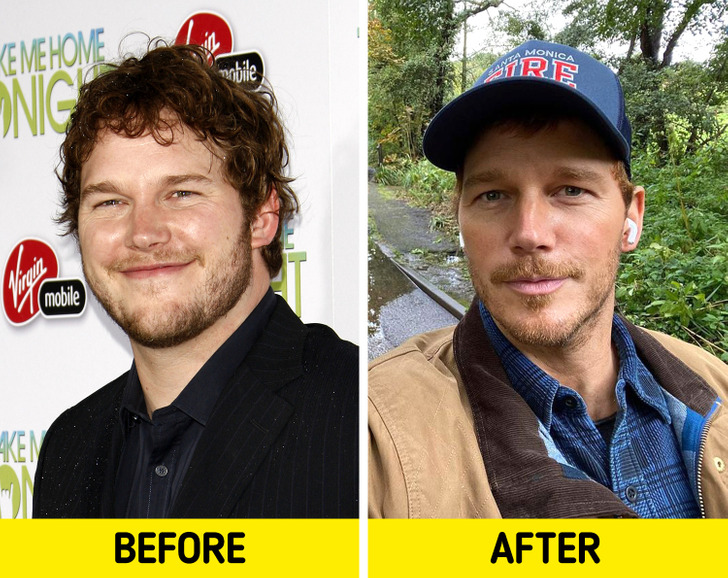 It was challenging for Chris to lose weight because of his ex-wife's cooking. Then, he decided to take control of his choices and started working out — he did a combo of running, swimming, boxing, and kickboxing. Pratt ate 4,000 calories a day and drank so much water that he had to use the bathroom all day. He lost 60 pounds in just 6 months.
A low-carb, Paleo-style diet, protein, no carbs, and working out 5 times a week did the trick.
6. Drew Barrymore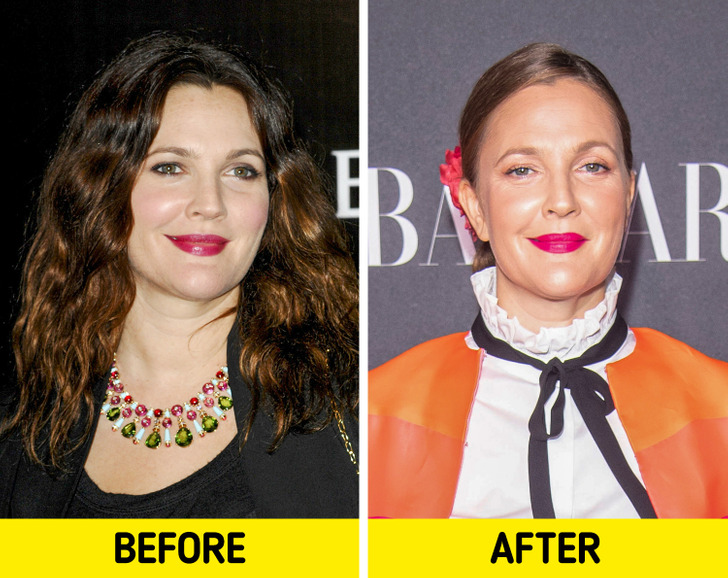 Drew always starts her day with a glass of lemon water. For breakfast, she makes avocado toast, and when she eats with her friends or family, she goes for eggs or fruit. At times, Drew allows herself some French toast or pancakes. Besides, she always works out in the morning; otherwise, she can't get herself to do it.
Barrymore does cardio, calisthenics, and also dances. All of these combined are great calorie burners.
What do you eat to lose weight? What sports do you do to keep fit?
Preview photo credit Gilbert Flores/Broadimage/EAST NEWS, rebelwilson / Instagram