12 Young Actors Who May Soon Push Current Hollywood Superstars Backstage
People who are connected with theater and cinematography know about the importance of things like the type when it comes to acting. Type includes a set of external features and character traits that determine the range of possible roles for a person in the acting business. Modern cult actors like Leonardo DiCaprio and Nicole Kidman have built up their type and that's why you can see the same features in their characters. However, it's quite difficult to stay unique in the cinema business taking into account the fact that time works against actors.
We at votreART compared the types of our favorite actors and actresses with the types of promising up-and-coming actors and actresses. The new shift is definitely going to push their already established colleagues backstage.
Rachel Weisz — Joey King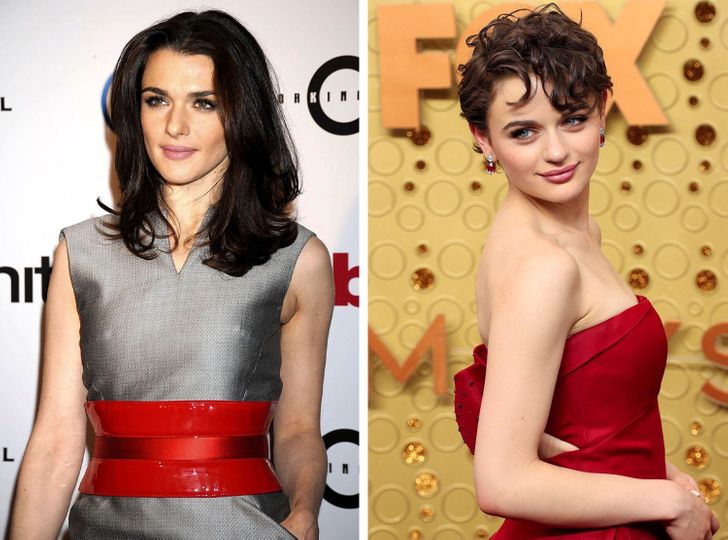 Joey King is only 21 years old and she has already been featured in dozens of various projects. She got famous after starring in the light romantic comedy The Kissing Booth, while her role in the series The Act brought Joey a Golden Globe nomination for Best Actress.
Michael Fassbender — George MacKay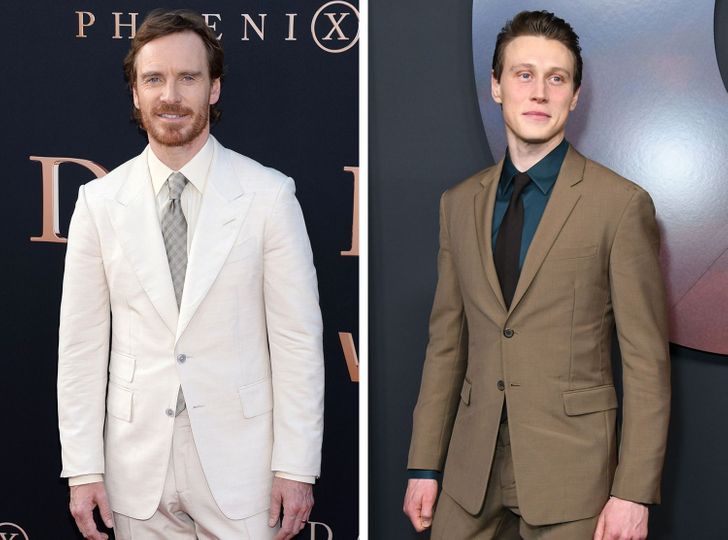 Recently the world saw the movie 1917 which starred George MacKay (age 28). He also played key characters in movies like Where Hands Touch and Captain Fantastic and couldn't stay out of the spotlight.
Eva Green — Kaya Scodelario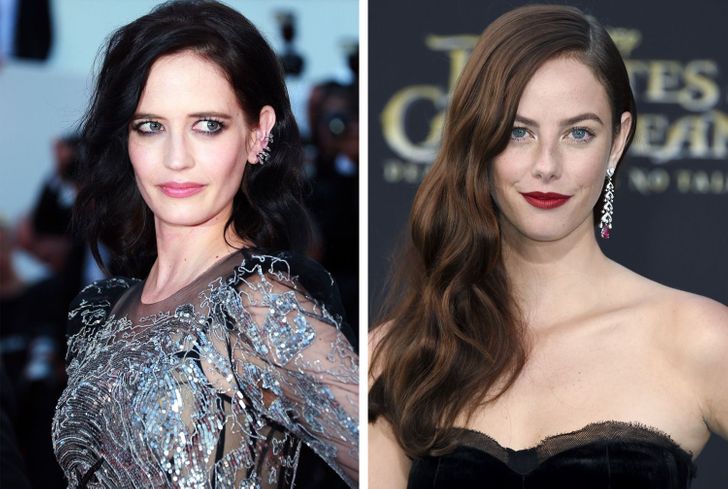 Kaya Scodelario (age 28) started her career with the Skins series. Soon after that, she got famous for her dramatic roles in movies like the screen version of Wuthering Heights by Emily Brontë and The Pale Horse series based on Agatha Christie's novel.
Matt Damon — Lucas Hedges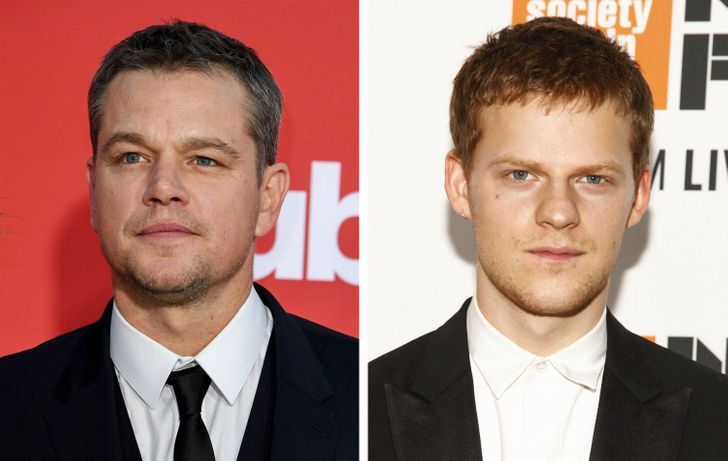 This guy is only 23 years old, but he has already starred in such big projects like The Grand Budapest Hotel, Three Billboards Outside Ebbing, Missouri, and Lady Bird. We are pretty sure that we are going to hear his name many more times.
Amy Adams — Sophia Lillis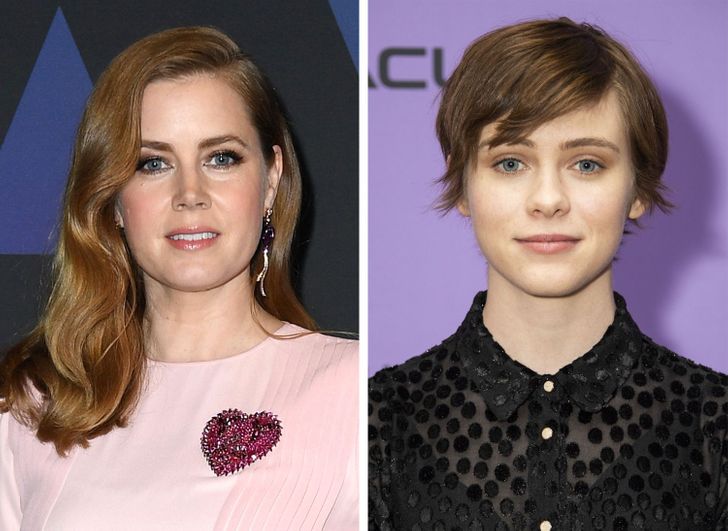 The brave girl from the screen version of Stephen King's book It is already 18 years old. Sophia Lillis is actively playing roles in movies and series and we believe she is going to become the new Amy Adams, especially taking into account the fact that they have played the same character at different ages in the Sharp Objects series.
Kate Winslet — Florence Pugh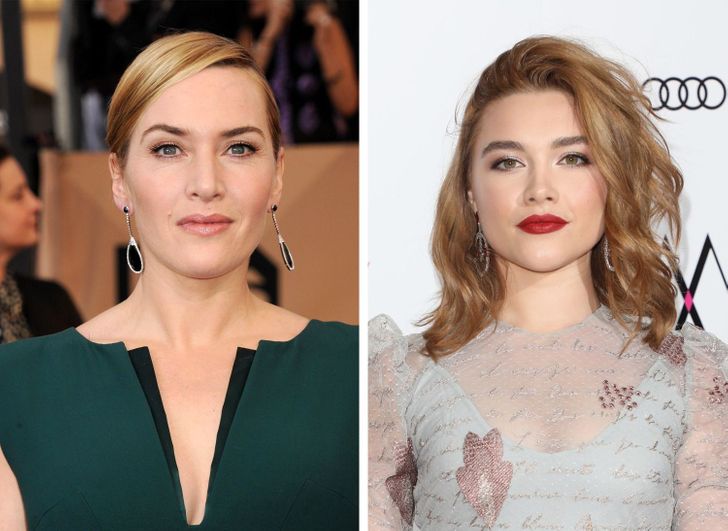 24-year-old Florence Pugh has already got many fans thanks to her roles in movies like Lady Macbeth, Little Women, and Midsommar. She received special respect from the public for not trying to fit into generally accepted canons of beauty and isn't trying to lose weight. By doing this she is repeating Kate Winslet's way.
Hugh Grant — Freddie Highmore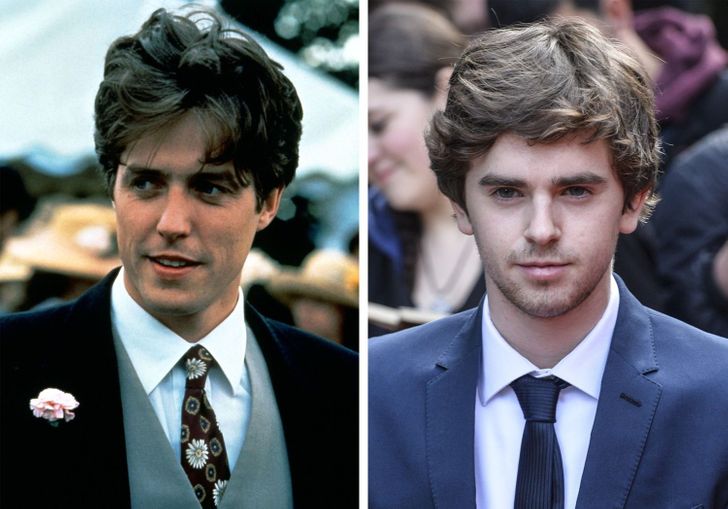 We fell in love with Freddie Highmore when, as a kid, he played in the movies August Rush and Charlie and the Chocolate Factory. He is 28 years old now and his name is quite well-known. One of his last works was his role in The Good Doctor series.
Nicole Kidman — Elle Fanning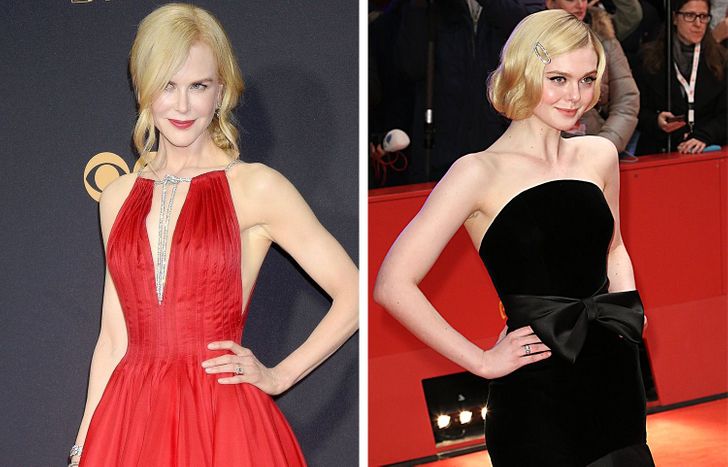 22-year-old Elle Fanning has played so many diverse roles in big projects that even adult actors could envy her. They include roles like the beginning model in The Neon Demon, Mary Shelley in the same-name movie, and even Catherine the Great in The Great series.
Edward Norton — Alex Lawther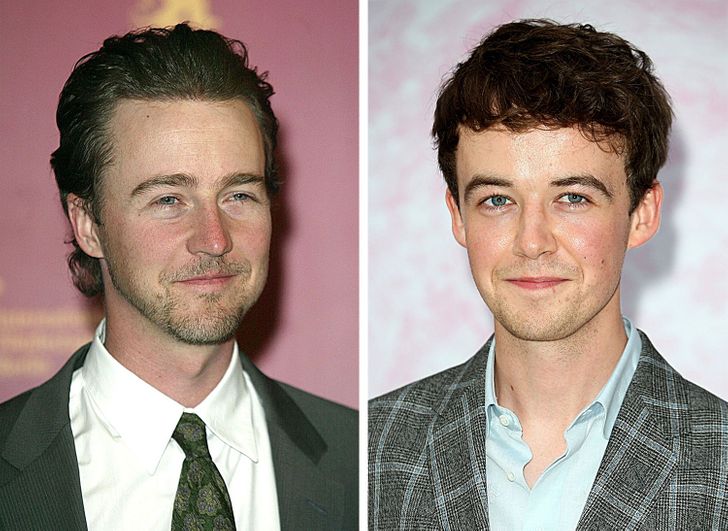 One of the first works of Alex Lawther (age 25) was his role in the cult Black Mirror series. After that, we saw him in movies like The Imitation Game and Goodbye Christopher Robin. 
Natalie Portman — Lily-Rose Depp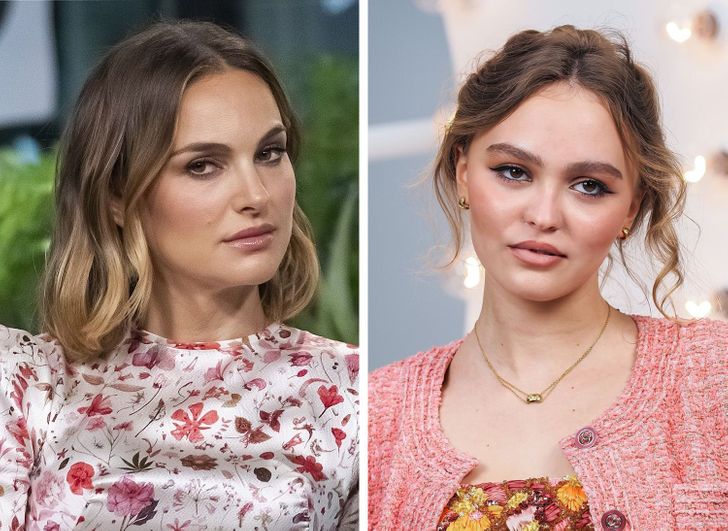 Lily-Rose Depp, age 21, who is the daughter of Johnny Depp and Vanessa Paradis, hit the gene jackpot and on top of that, she works hard and pleases her audiences with bright roles. The last released movie she was in was The King where she played together with Timothée Chalamet.
Leonardo DiCaprio — Douglas Booth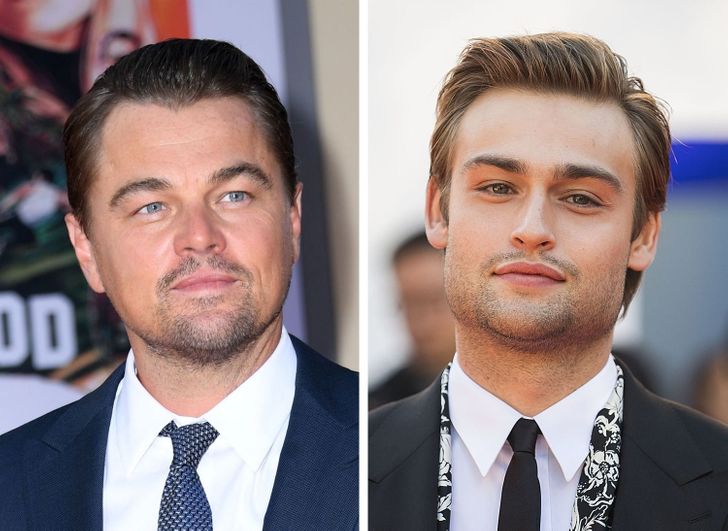 We have seen Douglas Booth (age 28) in the screen version of Romeo & Juliet and in the biopic about Mary Shelley. Today the world is eagerly awaiting the release of the movie My Salinger Year where he will appear together with Sigourney Weaver and Margaret Qualley.
My friend called Douglas Booth a Leonardo Di Caprio of this era and I just agree with her. © WSYHBx / Twitter
Scarlett Johansson — Mia Goth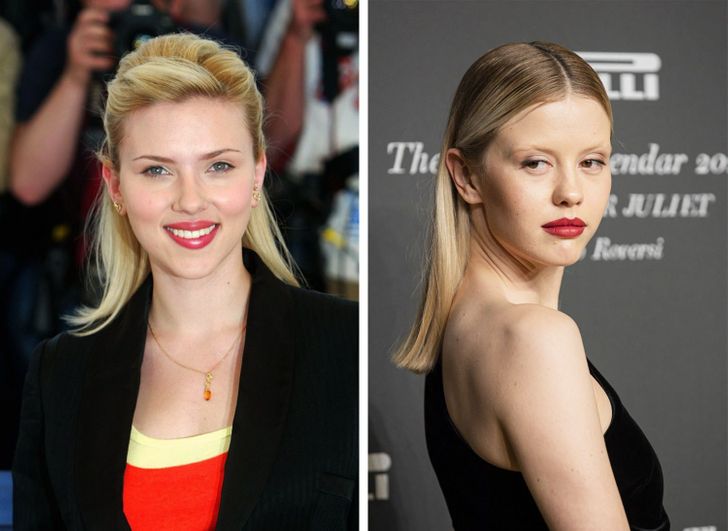 At age 26, Mia Goth has already played in the movies of titans of the cinema business like Lars von Trier and Luca Guadagnino. The last movie she starred in was the new screen version of Jane Austen's novel Emma. We are sure she is going to have many amazing roles in the future.
Which of the young actors do you like most? What movies or series have you seen them in?
Preview photo credit Gilbert Flores / Broadimage / EAST NEWS, Christopher Tamcke / DDP Images / East News