45+ Pictures Revealing The Unconventional Side Of Dubai
Dubai is the largest city in the United Arab Emirates and it is known for luxury shopping, ultramodern architecture, and a lively nightlife scene. The pictures of Dubai typically leave you with a sense of awe and wonder, but it is important to note that these pictures only portray one side of the marvelous city. The other side of Dubai will still leave you with a sense of wonder, but it can only be seen if you are actually in the city. Prepare yourself as we uncover the side of Dubai that is hidden away and kept off of most Internet feeds.
Most of you probably knew that the streets of Dubai are filled with fancy cars, but that's surprisingly an understatement. Yes, you read that right! If you're ever stuck in a traffic jam in Dubai, you should expect to be surrounded by Ferraris and Lamborghinis. But one thing to note is that if you somehow find yourself in a Toyota Corolla, you'll stick out like a sore thumb.
Stunt Lovers
You would be surprised to see how big of adrenaline junkies the residents of Dubai are. When you think of stunts, you typically imagine people jumping off of large buildings, and while Dubai has that too, the other stunts that can be seen in Dubai take it to a whole new level. You can see drivers on the road doing wheelies. At first that might not sound too impressive, but that's until you realize that the drivers are doing wheelies with an SUV.
Ambulances…With Swag
You never know what's going to be your last ride, so why not go out in style? Just kidding, and God forbid something like that ever happens to you, but the ambulances in Dubai are the fastest ambulances in the world. They can go 185 mph and doesn't it make sense to get sick or injured people to the hospital the fastest way possible? The people of Dubai certainly seem to agree with that reasoning!
Father Son Bonding
The people of Dubai make sure to honor their culture and traditions even while they are stand-up paddle boarding! These traditions have been around for thousands of years, and the people of Dubai stay true to them even during their leisure activities. What makes this picture even more eye catching is that the father and son were able to go paddle boarding in the middle of a desert. That's not something you'd expect to see a few decades ago, but modern technology has allowed Dubai to transform into a place that defies all odds with its man made beaches and islands!
New Type Of Ride
content/uploads/2018/04/23114841/dubai-1-e1524484158558.jpg">Imgur
We already showed you how the average person in Dubai is riding around in a super nice and luxurious car, but what do the super rich people drive in Dubai? The man in this photo is making a statement with his pet lion! The locals in Dubai must be very jealous of this man as he cuts traffic with his pet lion on his way to work. The question is, where does he park his beautiful pet?
Carpool Buddy
This photo shouldn't come as much of a surprise after seeing people riding pet lions to work! Sometimes all we need in life is a good carpool buddy to spice up our morning commutes, and this Dubai resident did just that with their pet tiger. While this may be a scary sight for a tourist, the people of Dubai see things like this all the time. Chances are this tiger isn't that dangerous, and the poor kitty cat just wanted to get some air while he waits in traffic.
Wake Up In The Sky

We've all heard the saying, "Keep your head in the clouds and your feet on the ground." The saying apparently does not apply to the ultra rich people living in Dubai. They literally have both their head and feet in the clouds inside their 50th floor penthouses. These penthouses are all throughout the city and Dubai has the biggest concentration of skyscrapers in the world! Dubai is also home to the world's tallest building, the Burj Khalifa, which stands at 2,722 ft tall.
Life In The Desert
Wildlife can be extremely difficult to grow in climates that are considered too harsh. Unfortunately, with little rain and sweltering heat, Dubai is a place that is not conducive to cultivating plants. However, the Dubai Miracle Garden is the largest flower garden in the world and is home to 250 million plants. As you can see, the colorful flowers combined with the cool designs make it a must visit spot for anyone visiting Dubai.
Iced Out Mercedes
Mercedes Benz cars are no head turners in Dubai, unless you go the extra mile like the owner of this car. It goes without saying that whoever owns this car is one of the richest people alive. In fact, Saudi Prince (Amir) al-Waleed bin Talal bin Abdul-Aziz is the owner of this diamond encrusted car and he is one of the top ten richest people of the world according to Forbes. This diamond studded Mercedes costed him a mere $4.8 million dollars and it features over 300,000 diamonds.
Tennis Heaven
Evidently, Dubai is all about testing humanity's capabilities when it comes to architecture. This tennis court is over 1,000 feet from the ground and it is located at the top of the ultra posh Burj al Arab hotel. Roger Federer and Andre Agassi were invited to play a friendly match atop this heavenly court, but we wonder how someone can actually play up there without feeling uneasy! Also if a ball were to go flying off the court and hit someone on the ground, they would die upon impact.
One Call Away
Nokias might be out of fashion in the US, but that's because none of the Nokia phones in America look like this! If you look closely, you'll see numbers located in front of each of the devices that look like phone numbers. However, it turns out those are actually the prices of each of the phones. We wonder whether the people who have this phone have plans to upgrade in the future. If they do, does that mean they'll buy a diamond encrusted iPhone next?
The Less Fortunate

Wherever there are super rich people, there are also poor people. Dubai is aware of this inequality and actively tries to help and uplift the less fortunate. If you look closely inside the fridge, the dispensary is not skimping out by giving out cheap cans of tuna. Instead fridges like this are often packed with expensive yogurts and cappuccino mixes. Dubai's devotion to helping the needy shows that not only the rich deserve to treat themselves.
Gold Vending Machine
If a restaurant or store accept payment in only gold, you might be out of luck. Only places in Dubai would have policies like this and unlike cash, gold is quite hard to carry around in your wallet and pocket. Fortunately, to address this problem Dubai is filled with ATM-like gold machines like this. These machines are so heavily used that they have to have be restocked twice every week.
Luxurious Stable
The horses in Dubai lives in stables with marble floors and painted ceilings–talk about high living. If only we were able to live that type of lifestyle here in the United States..
Life Of Pi In Dubai
Being stranded on a boat with a fully grown lion sounds like one of the scariest things in the world, but that's not stopping this brave man. This seems like an upgrade from Life Of Pi as Pi was stranded on a lifeboat in the book/movie. In this case, the man is on a luxury yacht with his trusty lion. The things money can allow you to do in Dubai…
Desert Skiing
Skiing in the desert is supposed to be impossible, but not in Dubai. Obviously the skiing can't take place outdoors with Dubai's climate, however this indoor ski resort gives you quite an authentic experience. The best part about this resort is that it's the only one of its kind that is open year round regardless of the season. This is also the biggest indoor skiing resort in the world!
Pimp My Ride
You would expect Dubai to be filled with tons of Mercedes given the wealth of its citizens. However, this is no ordinary Mercedes as it's painted in pure white gold. The owner of this car probably doesn't drive it much seeing as the reflection would make it hard for other drivers to see. Honestly, what's the point of having a nice car if you can't show it off!
Tower Of Turtles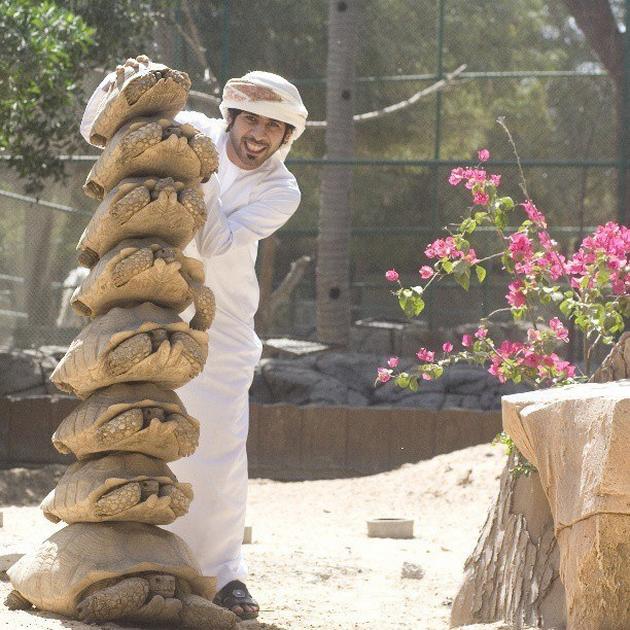 The people of Dubai have a fascination for collecting endangered species and this man proves to be no exception. We've seen pet lions and tigers, and if you're not impressed by this picture yet, the animals in this picture are desert turtles and they are extremely rare and hard to find. If you are blessed with the opportunity to meet a desert turtle in your lifetime, we don't recommend you try anything remotely close to what this man did because desert turtles hate humans.
A Bathroom For The Gods
This luxury penthouse has one of the nicest bathrooms we've ever seen. Wait…it turns out this is a public restroom! While we usually avoid going to the bathroom in public, if we're in Dubai we definitely know where we're going to make a pit stop. With a state of the art rainfall shower and jacuzzi we may never leave this bathroom
A Cheetah Calls Shotgun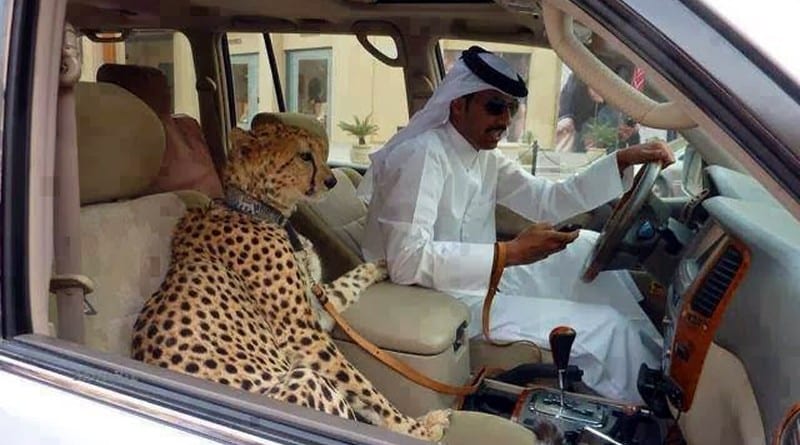 We've heard of people keeping their pets in the passenger seat. It's always adorable to see someone's dog or cat looking out the window and enjoying the breeze. This resident of Dubai decided to take things to the extreme by allowing his pet cheetah to ride shotgun. Although the cheetah is not roaming the plains of Africa, he seems to be perfectly content in the passenger seat.
Uber XXXXXL
Imagine calling an Uber and a Bugatti shows up. Sometimes in Dubai, a basic Uber X will get you a high-end car like this and it's supposed to be normal! By far, Dubai is the only place in the world where something like this could ever happen.
Robots Playing Sports
In this day and age, esports is actually a thing. In case you didn't know, esports have deemed video games as sports. In typical Dubai fashion, the definition of sports has changed once again and this time it include robots. In Dubai, one of the most popular sports is camel racing with robots riding on top. The sport has become so big that people actually place bets on robots and their camels!
The Construction Mecca
While much of Dubai's initial economic success came from the abundance of oil the region contained, today's Dubai has become a hub for foreign developers due to lax tax laws. Dubai constantly has construction going on and that is reflected in this photo of Dubai's cityscape. These high rise buildings under construction are all accompanied by a large crane.
Driving On Water
This looks like a scene straight out of a James Bond movie, but this is actually a real life moment captured in Dubai. Some people in the city are so rich that they are bored of yachts. The water car pictured here is owned by one of the Crown Princes of Dubai, Sheik Hamdan Bin Mohammed Al-Maktoum. He owns a total of 6 of these and altogether they cost over $800,000.
The Golden Cupcake
As we already know, everything is bigger and more lavish in Dubai. Dessert is no exception. This $1000 dollar cupcake appropriately named the Golden Phoenix is the most expensive cupcake in the world. If you were wondering the gold in this cupcake is real (and it should be if we're paying $1000 dollars for a cupcake). Made with Ugandan vanilla beans, Italian cocoa, and 23 karat gold, this cupcake is truly fit for a king.
No Perverts Allowed!
Oftentimes, women can't go to the beach without being gawked at and stared at by creepy men. Don't worry ladies, if this is an issue you can come down to Dubai and enjoy this family beach. This family beach only allows women and men with families to enjoy its white sand and beautiful ocean. However, don't bother packing your swimsuit as beaches in Dubai require women to be covered at all times.
Raising Lions And Cheetahs
We've seen people carpooling with tigers and riding on private yachts with lions, but do you ever wonder how these wild animals were raised to begin with? Apparently, there's no proper way to domesticate them and experts have warned UAE citizens to not keep these animals as pets. However, many citizens believe that showing respect to these animals when they're cubs makes them harmless when they're fully grown. Do you think it's worth the risk?
No Fish Zone
This sign has left us with a lot of questions. We agree fish can smell really bad, but how many times did people bring fish on the metro to prompt municipality to put a sign up and ban them? Probably too many, and hopefully the sign has been effective. Fortunately for the super rich lion owners in Dubai, there are no signs that ban lions from riding on the metro. However, chances are that the elite don't ride the metro.
A Fat Check
Imagine seeing this insane bill after a night out. This group spent 387,988 dirhams which is the equivalent to approximately $100,000 United States dollars. If we saw a bill like this we'd surely pass out at the sight of all those digits! However, in Dubai this is just a run of the mill bill. With some of the world's wealthiest citizens, bills like these have become a commonplace occurrence at many of Dubai's nightclubs.
Cool Cops
If the ambulances in Dubai are ultra fast supercars, you best believe that the cops are driving in style too. The official cop car in Dubai is a Ferrari, but that makes sense if the bad guys in Dubai are driving Lambos and Bugattis. How else would they catch them? A lot of people who weren't able to afford supercars probably dreamt of becoming policemen just for this perk.
The Golden Triplets
If a Porsche, Ferrari, and Mercedes jeep were all parked right next to each other you could be sure that they would attract a crowd. These kind of luxury cars are commonplace in a city where many of its residents drive high-end cars. However, this particular trio does stand out as all three of the cars are gold plated. These gold plated cars get quite a bit of attention as they're quite unique.
Escaping Traffic
If people were rich enough to do this in LA, this would probably happen all the time. However, the topic of discussion is Dubai and people actually do this over there. If Waze can't save you in Dubai, call the chopper! It also turns out people who live at the top of giant skyscrapers actually have the opportunity to see cars in the sky because helicopters fly them regularly across the city.
The Limo's Here
One of the biggest issues with ambulances in the US is that they usually limit you to bringing only one additional person. While we hope you never find yourself in such a circumstance, it's definitely comforting to have as many of your loved ones as possible around you during such a stressful time. The people of Dubai deeply empathize with that belief and that's why many of the non-supercar ambulances are actually stretch limousines.
Old Town Road
So far we've seen a lot of cool vehicles, but we definitely think that this one takes the cake. This custom motorcycle is unlike any other vehicle we have ever seen! This man is riding on white horse motorcycle which resembles a beautiful stallion. He even has a white sweat suit to match his motorcycle. While we think that horseback riding can be daunting and potentially even dangerous, we wouldn't mind taking this guy's horse for a ride.
Out Of This World Mall
It's no surprise that the biggest shopping mall in the world is in Dubai. The mall spans 5.4 million square feet and is home to over 1,200 stores! In 2011, this mall was the most visited building in the world. Apart from shops the mall has a massive aquarium and a zoo that features over 300 ocean speaks. There's also a SEGA-themed amusement park and another amusement park designed just for kids!
24K Magic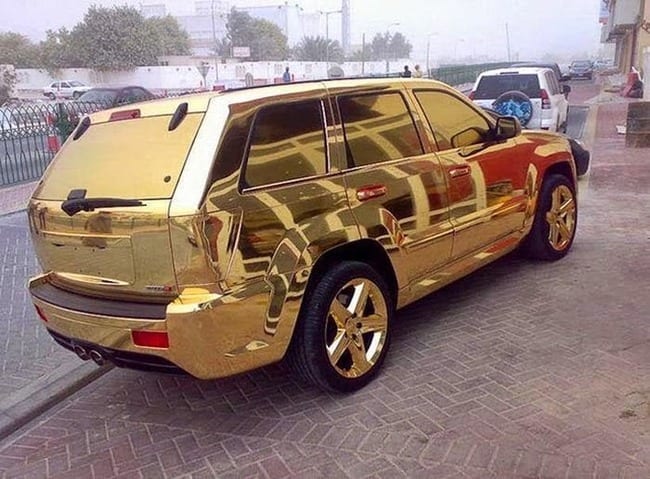 In Dubai a Jeep Grand Cherokee would be considered the vehicle of someone who is struggling. With Ferraris, Lamborghinis, and Porsches littering the streets a Jeep Grand Cherokee is not likely to turn many heads. In order to make his/her car stand out more, this Grand Cherokee owner decided to get a 24 karat gold paint job. It seems like painting things gold is the way to fit in in Dubai!
Skywalker
As mentioned earlier, Dubai is a city with some of the world's largest skyscrapers. This means that thrill seekers from around the globe come to film some crazy stunts. The man in this photo is taking a picture of himself with a selfie stick as he leans off the edge of an extremely tall building. P.S. if you're looking to make a living as a thrill seeker, make sure that you're not afraid of heights.
Putting Louboutin's To Shame
Louboutin's have so much hype around them for two reasons–high prices and red bottoms. However, the hype is not so apparent in Dubai. The heels in this picture make Louboutin's look like peasant shoes because of the gold cassette heel. While these shoes were designed by a French man, they're worn more in Dubai than any other place in the world.
Golden Goal
Everyone has that one friend who has a foosball table at their house. A theme you may have picked up on by now is the fact that everything in Dubai is more extra than usual. Whether it's your car, dessert, or even the mall, everything is more extravagant in Dubai. This foosball table is no exception. This special custom made foosball has Swarovski crystals and is diamond encrusted. I guess we know where the Royal Family would play foosball!
I'm On A Boat
It appears that these people are in the process of building an extremely large wooden boat. No surprise there. It is Dubai after all. We are curious as to what will be done with the boat after it is built. Will it be a replica of Noah's ark? Or will it be a passenger boat that sails around the Persian Gulf.
Penguins In The Desert?
You may be wondering how penguins can survive in Dubai which is one of the hottest places in the world. Dubai's high temperature averages roughly 100 degrees fahrenheit for most of the year. Luckily for these penguins, Dubai has an indoor ski resort which is cool enough for the penguins to call home. We don't know about you, but we'd visit this ski resort just to see these adorable penguins.
A Princess' Pacifier
Gold, gold, and more gold. If you take a trip to Dubai you'll notice that gold objects are everywhere. Why should the babies of Dubai miss out on all the fun? Some lucky baby named Rimma has a pacifier that is outfitted with diamonds and gold. The crazy part about it all is that this child's accessory is probably worth more than most people's annual salaries.
Starbucks Is Literally Everywhere
Even on vacation in Dubai, we still need our coffee fix. Don't worry they've got a Starbucks for that. This particular location, located in Ibn Batuta Mall, is one of the most lavish Starbucks we have ever seen. The stunning architecture makes it seem as if one is in a famous church or mosque. Wouldn't we all like to be sipping a chai latte as we take in the incredible features of this Starbucks.
A Luxurious Stay
Most of us would be quite content staying at a 5 star hotel. After all, you can't get any more fancy than a five star hotel right? Wrong. Just as with everything else, Dubai has found a way to one up the rest of the world. Introducing the Burj Al Aarb, a seven star hotel which costs a whopping $24,000 dollars per night. While that price is astronomical one of the perks is a 24/7 butler.
Birds On A Plane
Falcons hold a very special place in the heart of those who live in the United Arab Emirates. As the national bird of the country, falcons are given special treatment and privileges. Falcons are allowed to fly on commercial airplanes, and get this–they are even allowed to have their very own seat. Who knows what other kind of perks falcons get? We wish we could turn into a falcon for a day to see what all the hype is about.
World's First Temperature Controlled City
Construction of the world's first temperature controlled city has begun in Dubai. The city is a part of the larger Mall of the World project which is projected be a 48 million square foot space comprised of the world's largest shopping center and the temperature controlled city. The Mall of the World will also have hotels and an amusement park. Upon completion the Mall of the World is expected to have a whopping 180 million visitors annually.
Rooftop Boxing Practice
The rooftops of Dubai are populated with some of the richest and most famous people in the world. Is it really a surprise that British professional boxer and unified heavyweight champion, Anthony Joshua, was spotted practicing on top of one of Dubai's many extravagant buildings?
Real Life Batmobile
The Batmobile does not just exist in movies if you live in Dubai. Perhaps Batman decided to retire in the city and wanted to flourish in all of its wonders! We sure don't blame you Mr. Wayne.
Private Concerts
Teenagers in the US often have to work their tails off to afford nosebleed tickets to concerts that accommodate thousands of people. In Dubai, some teenagers are able to afford exclusive artist performances. This picture of Jay Z and Kanye West is from Sheikh Mansur's niece's birthday party and the private concert was billed at $6 million by itself.
Siamese Jeep
Unless you've been to Dubai, you probably have never seen anything like this in your life before. Is this car supposed to take up two lanes at a time? Stretch limos are common in the United States, but cars are never usually modified to stretch widthwise. It turns out the owner of this vehicle has a big family and the car has a total of 6 wheels to maintain balance.
Son Of A Jeweler
The people of Dubai are so obsessed with gold that you can pretty much buy anything made out of gold. There's such an abundance of gold and riches that even jewelry shops can't keep all their inventory boxed away, and instead store owners have to hang gold chains across their shop ceilings. That might sound like overkill, but the amount of times these stores have to restock is a lot higher than you'd expect!
Give Me Love
If you own a big cat like this you better listen to its demands. All cats need love and if you don't give them that, then there's a greater chance they'll become hostile towards you. That is something you simply can't afford with a lion even if you're the richest man in the word because it can cost you your life! So if you somehow wake up as a super rich sheikh in Dubai one day and your big cat wants to play, please listen to her.
R1p Girl
In true Emirati fashion, the women in this picture are surfing in traditional clothing and embracing modern technological excellence at the same time! Despite all the rapid changes and advances to technology and life in Dubai, the residents have stayed true to their religion and cultures!
Suns Out Buns Out
Dubai is a melting pot of rich old traditions and even new modern cultures due to its abundance of tourists. This picture is the prime depiction of all cultures coming together as a man is seen dressed in traditional Emirati garb, while the girls are rocking bikinis.
Beach Please
Here is another picture that shows the blend of old and new cultures in Dubai. Women wear burqas at the beach, but we expect this to change as burkinis have started to become popular.
In case you didn't know, this is how burkinis look. They've started to become very popular ever since model Halima Aden showcased them in the upcoming Sports Illustrated magazine.