8 Tips That Will Help You Choose the Perfect Bra for Your Outfit
The right choice of bra is really vital for several reasons. It can change the way you look in your clothes and it makes a difference in the way it feels when you wear your favorite dress or top. Whether it's a strapless bra, a bralette, or silicone stickers, they all have the nuances that you need to remember in order to not end up turning your look into a mess.
Here at votreART we know how it feels when your bra makes you look and feel awkward, and here's why we decided to collect a few practical tips that will help you make the right choice. Let's take a look at them!
1. Adjustable bra for strapless clothes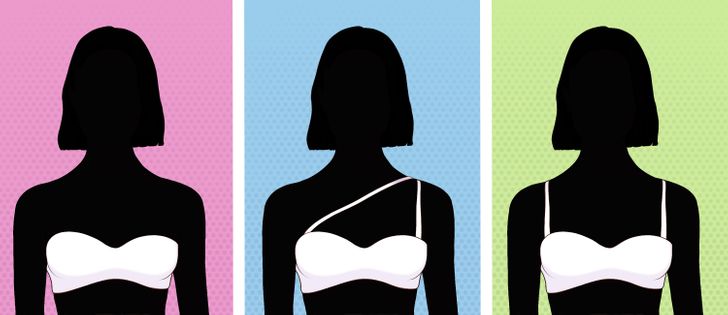 Whether the back of your dress or top is asymmetrical or it has only one sleeve, you'll need a bra that can adjust and hide under your clothes. Some convertible bras come with elastic bands that you can wrap around your torso to make the back dip lower, and others have different shoulder straps. Anyway, make sure all the straps and bands are adjustable so you can customize your bra exactly how you want it at the moment.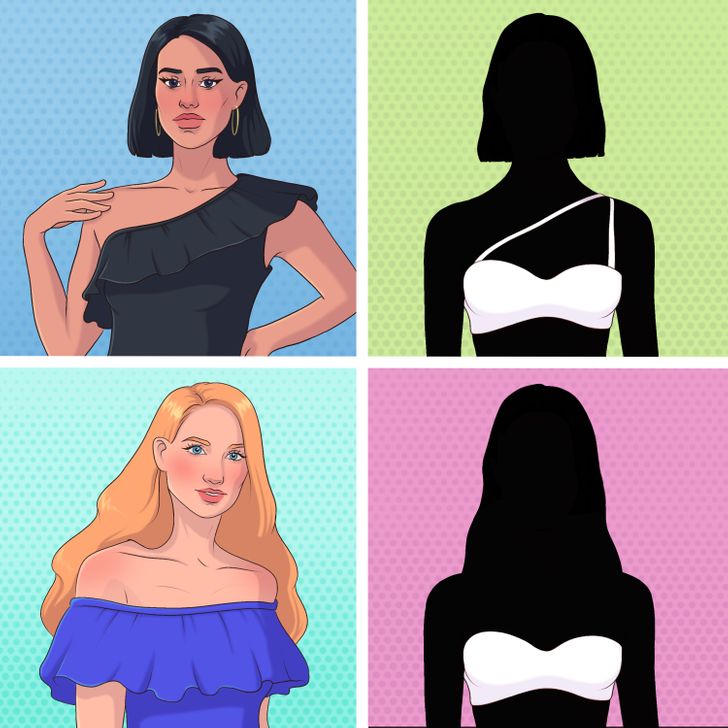 Wear a strapless bra with dresses and tops that have one shoulder or both shoulders uncovered. These types of bras will also be a good choice for tops and dresses with a closed neckline that leave both shoulders open.
2. Bralette, for a combined look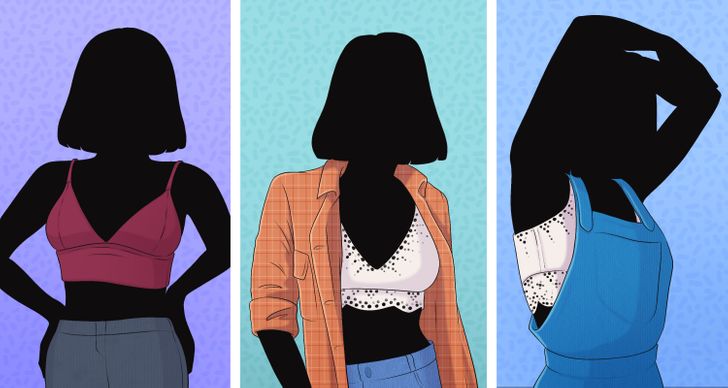 Bralettes are game-changers for anyone who doesn't like underwire bras or intricate underthings that dig into your ribcage.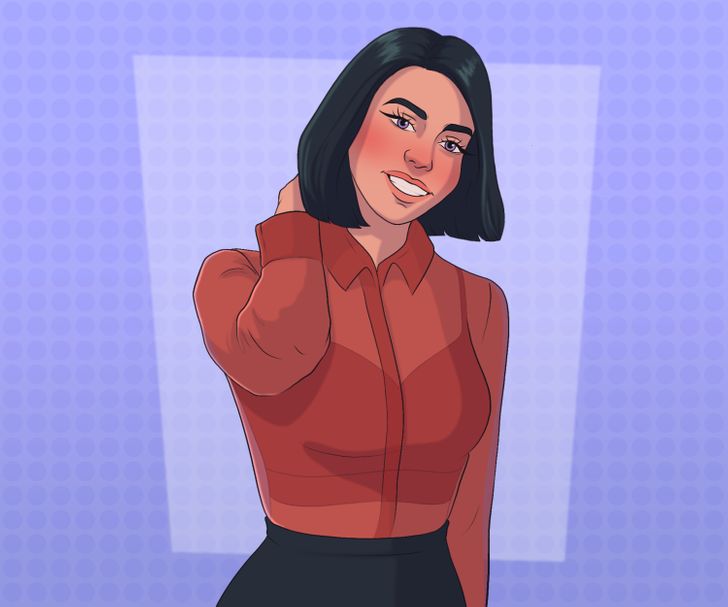 You can wear it as a top, or if you want some change, you can wear it underneath a sheer oversized top, a button-down top, under a denim jacket, or pair them with jeans. You can let a bralette show from under a plunging shirt, style it with an oversized jacket, or wear it under a cool summer dress.
3. Silicone stickers for open back clothing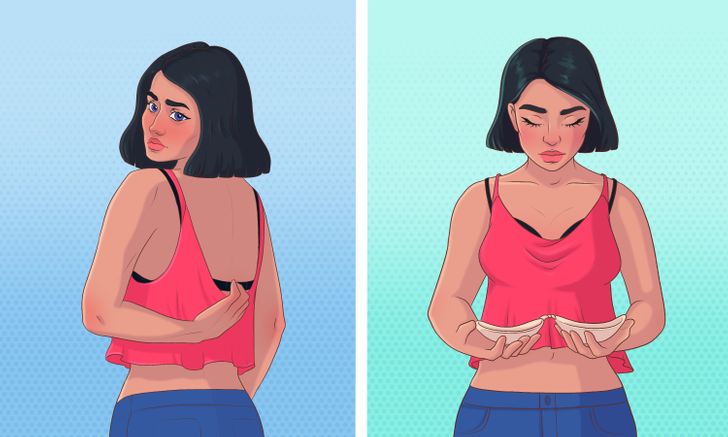 Adhesive bras that connect in the middle work especially well to give you coverage and lift when you can't have a band in the back.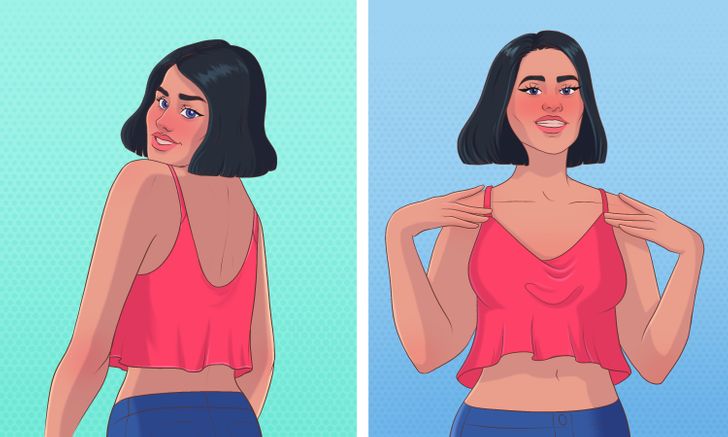 They are also good if the open-back dress has a high neckline. And if your dress has a little cleavage or a bit of a lower neckline, choose a lace-up version, which allows you to adjust the string in between the cups and pull them together. They are a lifesaver for evening dresses and tops, especially if you're wearing something backless or with a deep v-neckline.
4. Plunge bra for intricate necklines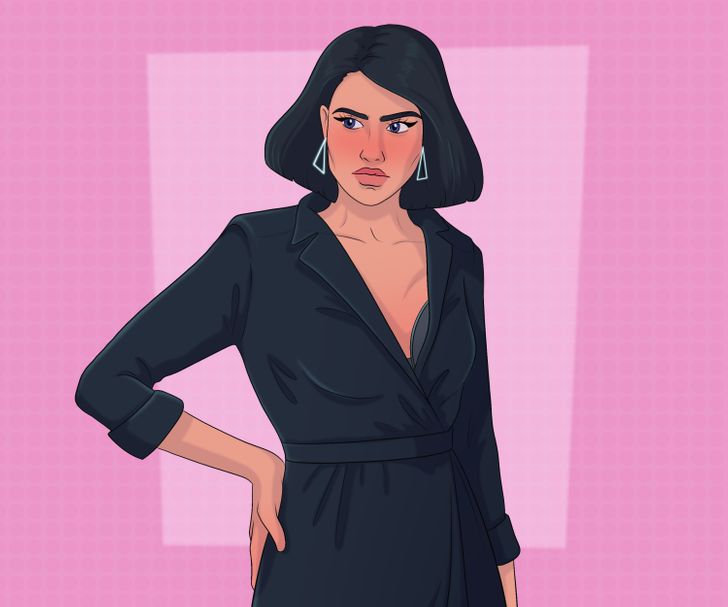 This bra is perfect for outfits with absolutely deep, plunging necklines. They are available with padding and some amount of contouring. They highlight the cleavage in a natural-looking way.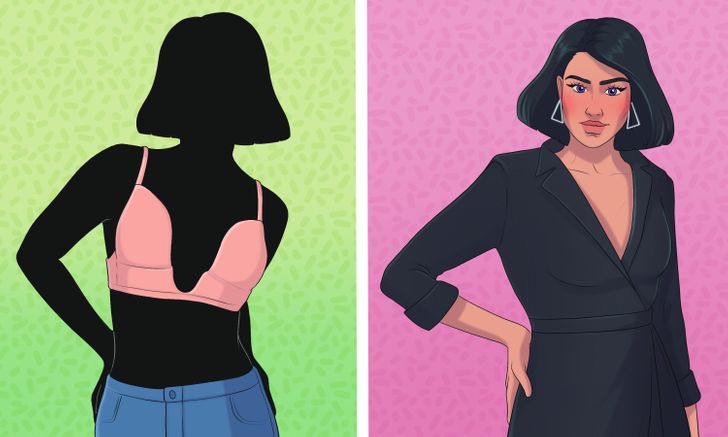 Wear it with formal tops and dresses with low cut necklines. It pairs perfectly with plunging dresses and tops because it simply disappears. It's convenient for maintaining lift in low-cut dresses that cover your shoulders, and it works on larger chests.
5. Bustier or bodysuit for open-shouldered outfits.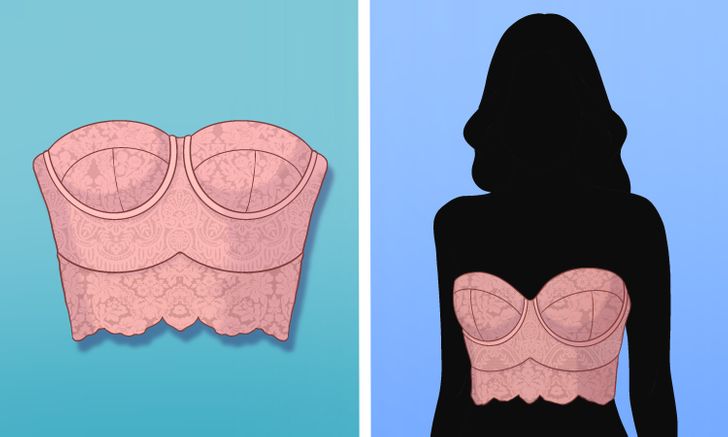 Bustier or a bodysuit is a reasonable choice if you don't want to show your straps. These bras for strapless dresses and tops prevent the band from sliding down and offer good support.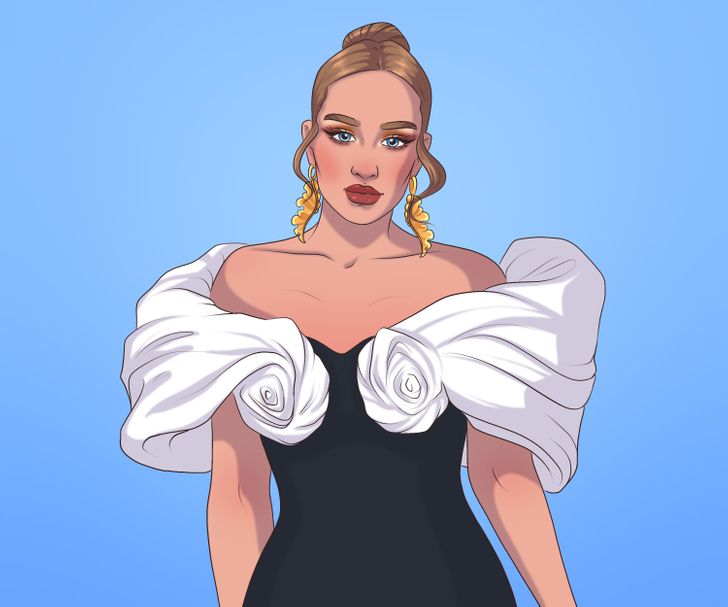 6. Racerback bras for T-back clothes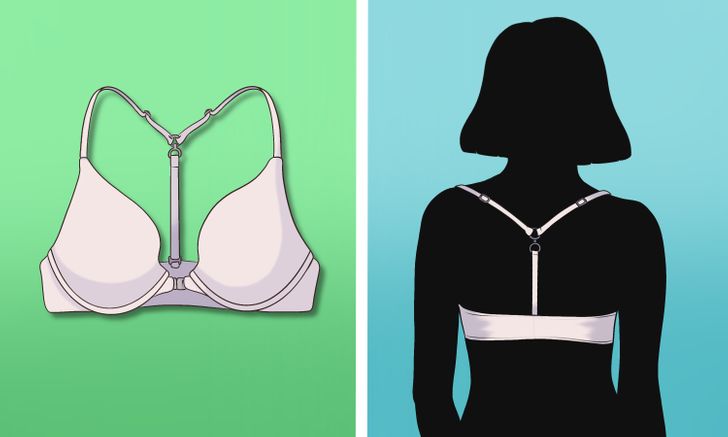 If there's enough material on the back of your dress to cover up the straps, a racerback or T-back style bra is the perfect fit. Wear it with T-back tops and dresses, sleeveless dresses, and suits. If you don't have a racerback bra, you can try converters that'll help pinch your bra straps together in the back.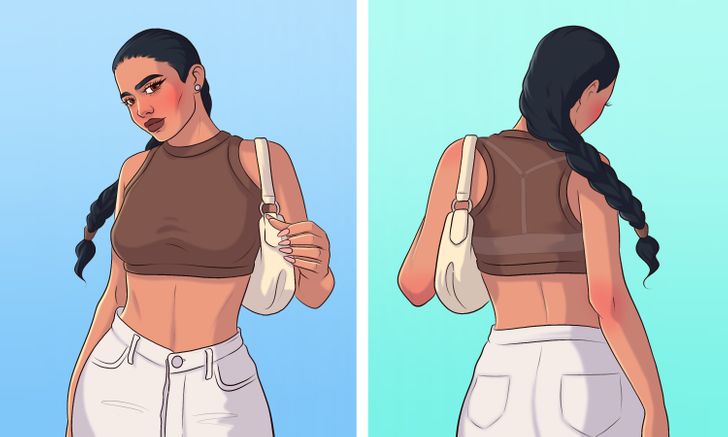 7. Adhesive nipple covers and lifting tape for cutout dresses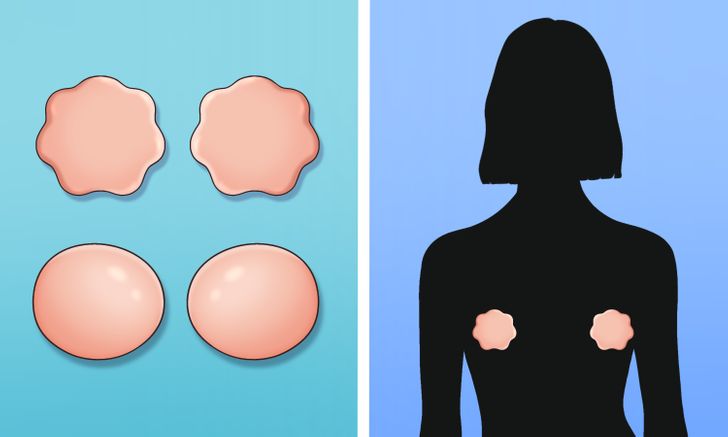 Dresses that have plenty of holes, cutouts, and straps make bras and even silicone strapless ones almost impossible, but adhesive nipple covers and breast-shaped lifting tape are game-changers. Clothes with less fabric and that show more skin than normal dresses or tops can be complemented with adhesive covers or lifting tape.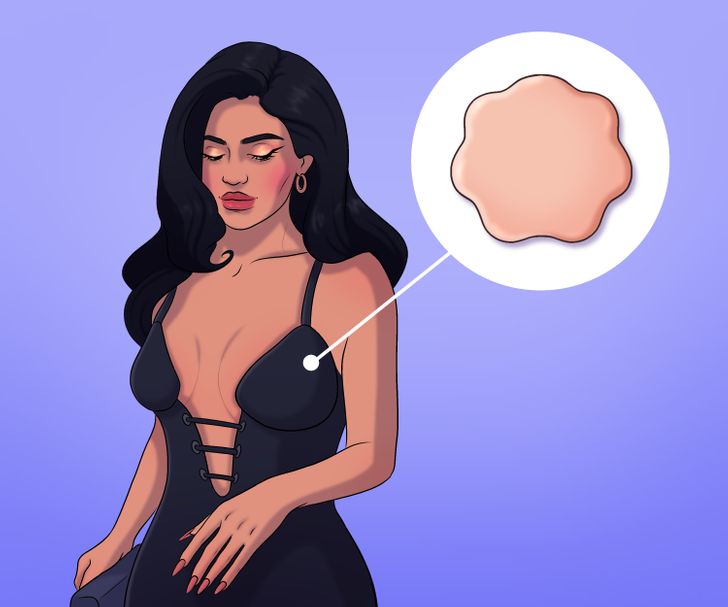 8. Choose the right surface for the bra's cup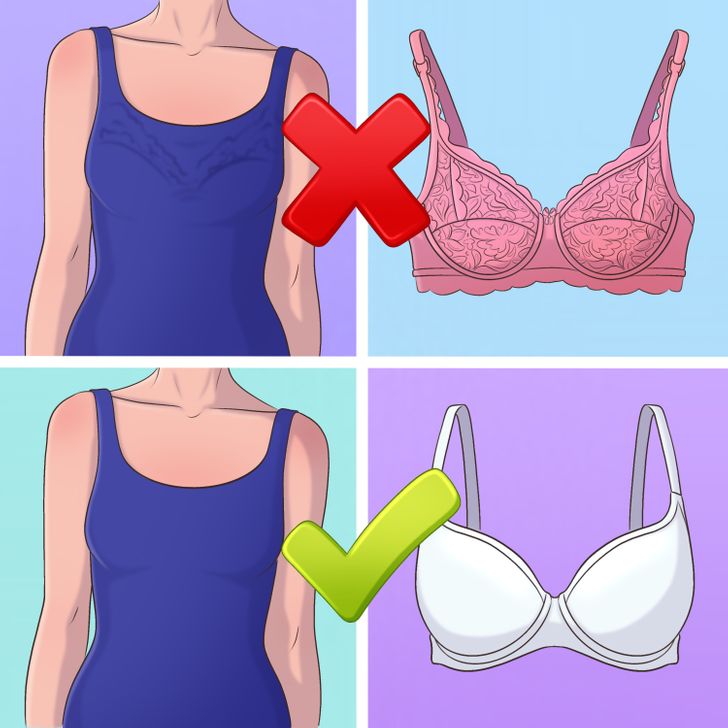 If you're wearing a top that fits tightly, you might want to have an even and smooth look without your clothes looking shrunk because of the uneven lacy surface of a bra cup. This is why it's better to choose a bra with a smooth surface rather than a lacy bra or a bra that has some pattern on its cup.
What is the most common problem that you face with while choosing a bra? How do you solve it?