Disturbing – Yet Accurate – Illustrations That Portray The Absurdities Of Modern Society
Warning:- Some of these images are graphic and may be inappropriate for the workplace.
Because the truth can be hard to grasp, a number of artists have used their abilities in recent years to expose accepted norms of society in creative, thought-provoking ways. From " This Activist's Artwork Speaks Volumes About Present-Day Society [Must See] " to "This Artwork Is Probably The Most Accurate ( And Scary ) Portrayal Of Modern Life We've Ever Seen" all illustrations are unique, yet challenge viewers to open their minds to the absurdities of modern life.
Spanish artist Luis Quiles is another activist who has created artwork to inspire deep contemplation, but his creations may be the most controversial yet. As you'll view below, many of his illustrations center on the objectification of women, war and power, social media, religion, and the glorification of technology in the modern world.
It might be agreed that the images are so powerful because they evoke deep visceral responses–be they arousal, terror, or disgust–which challenge common thinking. If any of the images strike a chord with you, that's okay. Just take a moment to reflect on what it is that inspires a reaction, and move on to the next at your own pace.
The following depicts uncomfortable aspects of the world that need to be addressed. Viewer discretion is advised.
01 Homophobia
02 Obesity in one direction, starvation in another.
03 Once again.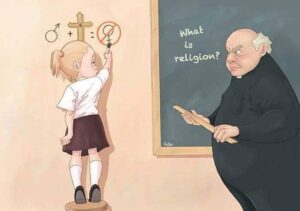 04 Generation Notification: the social media crazed population.
05 Religion's "helping" hand in poverty.
06 Gender stereotypes.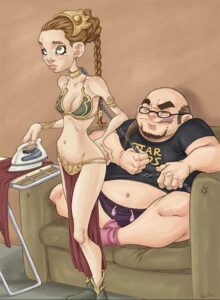 07 The innocent casualties of an unnecessary war.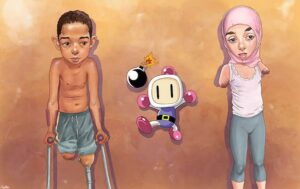 08 The business money sharks.
 09 The force-feeding of cheap food to the docile and lethargic public.
10 The censorship of free – thought and the consequences that follow voicing our opinion.
11 How female sexuality is used to divert the attention of a hormone-driven population of men.
12 How pharmaceuticals are turning populations into zombies and killing us at a not-so-slow pace.
13 The excessive monetization of professional athletes.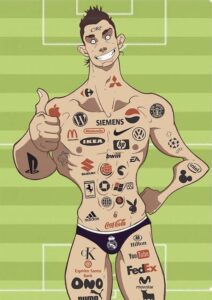 14 Objectification of women.